A Journey of Love
Maria's art and writing invokes a quality of compassion and love that enters our hearts and souls with a force which then cannot be put away. It stays and haunts us. I know of no other artist whose paintings convey this depth of emotion. Much of Maria's art is dedicated to her beautiful daughter, Terez Som, who died when she was only 15 years old. These paintings take us on a voyage of yearning, and of love so pure it radiates from the canvass. She is quite execeptional.
Anna Shaw
Jenifer DeBellis expressed her reaction to maria's work so beautifully…
"I love this! Anyone who can read through this entire piece without getting at least choked up once does not have a working heart. As a mother of three daughters I cannot imagine the horror of having to live without any one of them. My eldest daughter has just turned fifteen, so the reality in parallel is frightening and too close for comfort. The strength and courage that Maria conveys through her art and the writing that accompanies it is more than inspiring, it's soul food. My admiration for Maria's spirit, which has been exposed through her moving art and expressions, is overflowing. xox"
The Artist: Her Story, Her Journey and Her Views on Feminism
Tell us a little bit about yourself and your background, and what feminism means to you.
My name is Maria Szollosi but my old friends call me Mariska so I thought I would use my nickname as an artist name. I'm originally from Budapest, Hungary. I graduated from the University of Art and Design with a BA (Hons) in Textile & Fashion Design.
Leaving university as an enthusiastic creative designer and textile artist my first job was a Print & Design Technician while also working as a part time freelancer in the fashion industry. Then I went on to progress with my textile & stitched screen printed pieces and held my first solo exhibition.
I was already a young mum of two lovely daughters when I graduated from university. I was the happiest person in the word. That was in 1980-90.
Currently I am living in London and working as a freelance fine artist and designer for more than ten years selling fine art and digital fashion illustration prints in the UK and all over the world.
My works explore Digital Mixed Media. I try to describe it as the borderline between painting, freehand drawing and collage and computer media. My strong compositions benefit from my training in both graphic illustration and painting. Always, a woman is at the centre of my artwork. Feminism means that I can choose how to make my way in the world. How to make my art in my world. If anything, I admire and love the strength of all women. No matter where they are. And they are strong where ever they are.
After all these years I'm still not sure if I know what the word "feminism" means, but for me, feminism is about respect, peace, equality and freedom. It is about being a good human and being a positive influence on society. It is about not being limited by our differences from men but about how those differences can be used to better society. I believe that all people, whether female or male, should be treated fairly and equally, without preference to gender or any other means of identification. I don't believe in categorizing people for any reason.
What brought you to art/writing? Did you always doodle since you were little or are you a late starter?
I've loved to watch cartoons since I was little. When I was very young, I always asked my mom to draw girls and princesses for me 'cause I couldn't draw them myself at such a young age. I coloured them all. Later on I decided to learn to draw princesses myself and designed their costumes my own way. I designed their haircut too. Wow that was fun, I spent hours and hours drawing and colouring. That's where it all started; I was under 4 years old for sure. Been drawing, doodling, and creating ever since and this is where I'm at today: designing dresses, textiles and creating fashion illustrations, paintings and fine art.
What does your art mean to you personally and as a woman?
I don't know who I would be if I couldn't paint. I definitely don't know what I would do with my life if I couldn't create my art. I think our abilities, whether it's the ability to sympathize or love or sing or dance, define who we are, not only as a race but as individuals. The fact that I am a fine artist is a part of me, a part as vital as my heart or my lungs, and just as accepted to those who know me.
You know what it feels like to be released by what you love to do. You know what it feels like to be high off doing what you enjoy, and doing it well. You know how that has the power to save you. And the art has saved my life. My painting is intensely very special, very personal. As a
mother who lost her child it affects me on every level as I am working. Every painting is a journey and in my experience every painting goes through an intensely difficult patch before it all comes together.
Is there a theme running through your art? Do you have a 'message' you want to get across?
My paintings are dedicated to my beautiful daughter Terez Som, who I miss and love forever. My art is about memories. Memories which were created by love – no one can take them away from me and not even from any women in the world who lost their child.
She had just turned sixteen when we lost her and I still do not know how to deal with this. She belongs here with me, finishing school and falling in love, experiencing everything a teenager should be experiencing. With the death of your child, your hopes, dreams and plans for the future are turned upside down. You are beginning a journey that is often frightening, painful and overwhelming. The experience of grief is powerful. You have survived while your child has not. You will never have your old life back. But you have begun a new one (even though you didn't want it) and you will eventually grow to accept it. Even though you cannot and will not believe it now, you will actually smile again and feel joy again. It will just take a long time.
Within my paintings I strive to express my emotions or feelings through the pieces as a woman and as a mother. I think it allows me to release stresses and worries that I have and put them onto the canvas. It creates comfort and harmony, leaves me in peace. My art directly influences my feelings, and through the human feelings and soul it makes an impact on the viewer itself. The death of a loved one is something that everyone will experience at some point in their lives.
Which artist(s) influenced your work? Do you have a 'hero(ine)?
Artists and designers who have touched my heart is a various long list that includes all the big Italian Masters of the renaissance; the Pre-Raphaelite Brotherhood, also Egon Scheele, for his strong figures, sensitive use of line and expressive faces; Gustav Klimt moves me as well, his soft elegant women, the human form and for the combination of beautiful textures and Friedensreich Hundertwasser for his fantastic patterned streets. Their work is simply beautiful. I am a big fan of Art Deco. The 1920s and 1930s Art Deco movement has always held a special place in my heart. Fashion, form, architecture were always expressed to perfection this period. Some of my digital artwork was influenced by Felix Mas. His beautiful style touched me. I was told onces that you can't argue with beauty and really, I think that's true.
Where do you want to go with your art/writing? Do you have a dream?
I would like to continue to share my memories and experience of my inner emotion with people who walk down the same path I do. I want to transport the viewers into each painting and encourage them to feel the wonder of it. I would like to improve my artwork as well as get my artwork into galleries and sell it. To be the very best artist I can possibly be and never settle for less than quality in my work. Earning a living from my art would be awesome as would getting into the London RAA (Royal Academy of Art) on the printmaking on a three-year postgraduate course to then exhibit soon on their Summer Exhibition. I'm going to continue to paint until I die. I just am. I enjoy it, and it keeps me going. I'm honoured and feel extremely blessed each time a painting sells and brings feeling to the buyer. I really can't ask for much more than that!
What is your favourite piece of art/writing that you have created?
This is the most difficult question to answer. All paintings are part of me; they all come from my deepest part of my heart. To choose a favourite is like asking which your most loved child is. Well, if I have to choose I could say I love "Without You" more than the others because it is special. I think I reached the "unspoken emotion," and every time I look at this piece it moves me and touches my soul. I wish and hope my work may reach other people's hearts and souls. One of the best and most touching quotes I received from a viewer is "Makes me want to slowwww down and just really HUG someone." That is what makes the day worth living, and that is what enriches my life.
Without You…
by ©
Mariska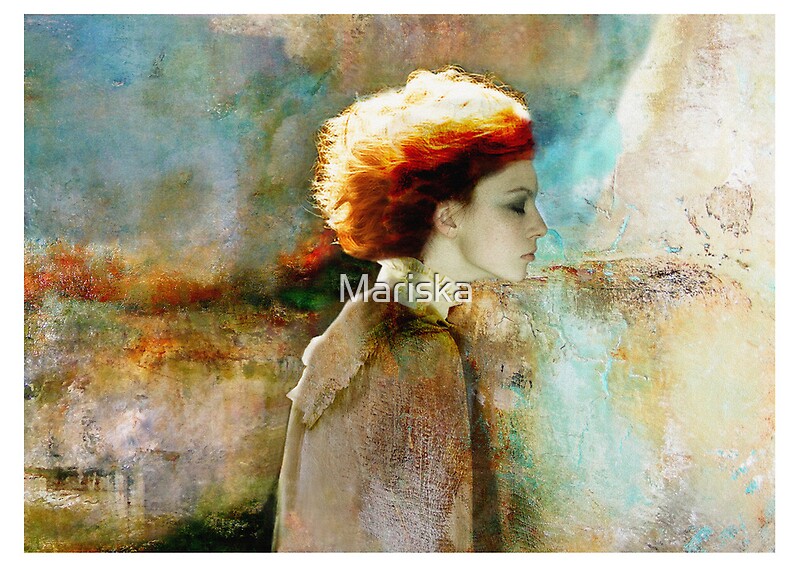 What others have said about *Without You
waterbug
This is an exquisite image. There seems to be an emptiness surrounding her, a shadowing, the closed eyes, the shading of her cloak. Yet her hair and face highlighted to show not a dis-appearing but only that she is affected by what is missing – perhaps after having become connected at an inner level of awareness. Really, really good.
F.A. Moore
Takes one's breath away- the abstraction, the red hair, the beautifully delicate profile, the freckles, and underlying it all, the story.
chrisdade
Wow this work is so divine and ethereal; it has a life of its own and is a testimony to the eternal soul. Such beauty and truth, I can feel the breeze that blows through her hair, I can't take my eyes of this image, you have created something very special.
Sassafras
Love everything about this exquisite piece. But what stuns me and holds my attention the most is the unspoken emotion which you have captured here.
Maria's Whispers Series is a gentle reminder to keep the dreams of that little girl blossoming within reach. Her imagery evokes a desire to step into these whispered moments if only to bask awhile within these invigorating breezes. Go ahead: stop and breathe in new life.
Jenifer DeBellis
Time To Unleash Your Dreams / Whispers Series
by ©
Mariska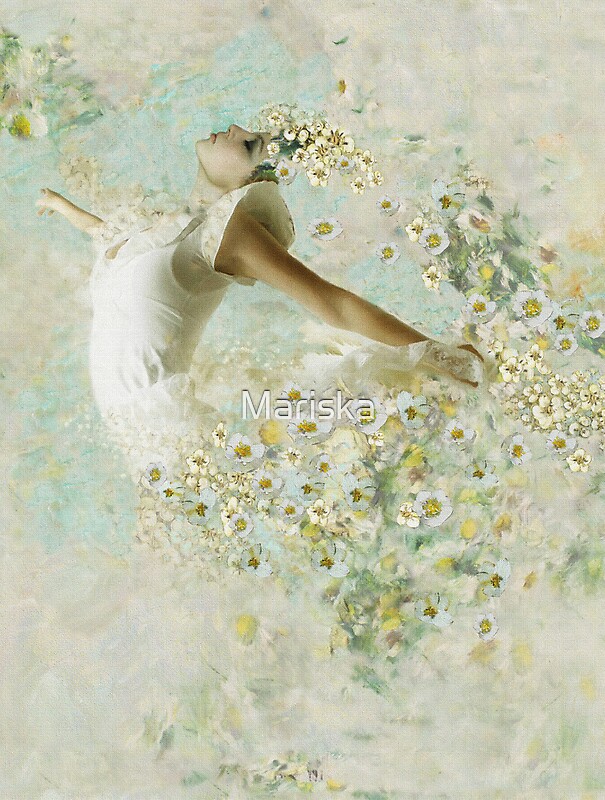 …Wind whispers
through the fields
Whipping the petals
into a feisty dance
Wind whispers
over the sky
Churning the clouds
into a rampant storm
Wind whispers
though I hear it
the wind tells me
only secrets
I already know…
Dreams / Whispers Series
by ©
Mariska
…Breathe, breathe in the air
Dont be afraid to care
Leave but dont leave me
Look around and chose your own ground
For long you live and high you fly
And smiles youll give and tears youll cry
And all you touch and all you see
Is all your life will ever be
Whispers Of The Breeze / Whispers Series
by ©
Mariska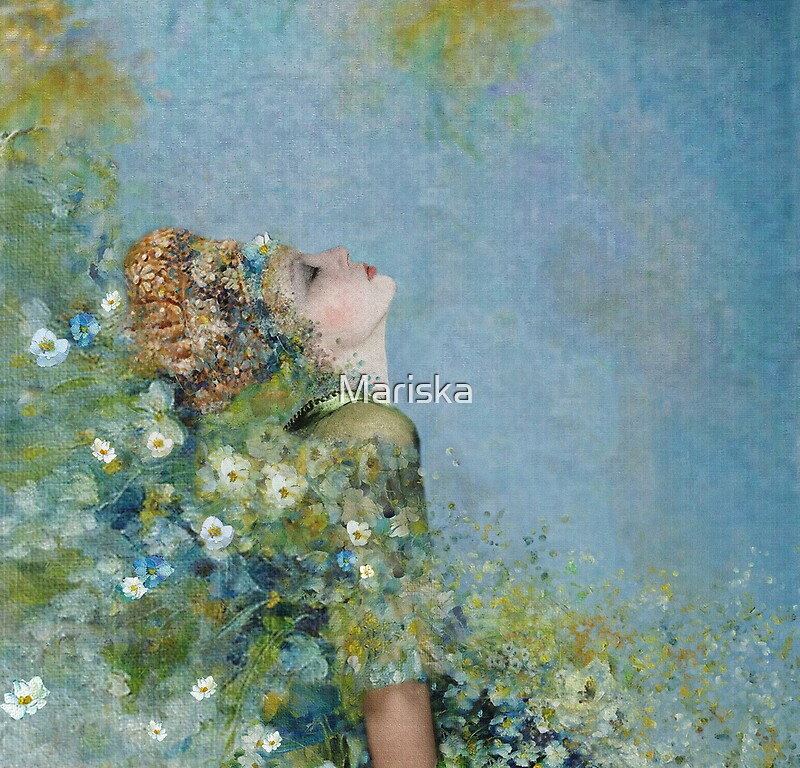 ….Listen to the voice of the wind
which whispers…
Listen the wind that
in a grass in bloom
brings the sweetness..
Listen to the love,
listen to your heart
and the whispers of your thoughts.
Live the life and always hear
the wind…
Fly With Me / Whispers Series
by ©
Mariska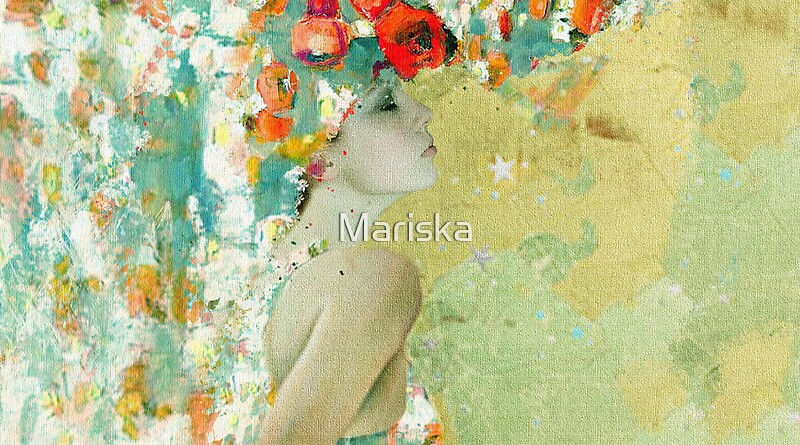 …She said dance for me, fanciulla gentil
She said laugh a while, i can make your heart feel
She said fly with me, touch the face of the true god
And then cry with joy at the depth of my love…
Tender Regard / A Pillanat
by ©
Mariska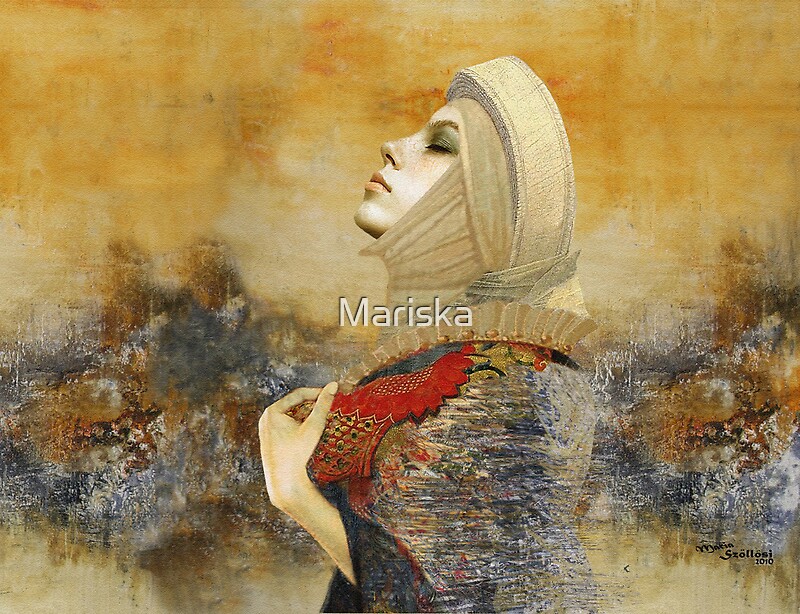 Once again my dearest daughter- Terezkem emlekere
For every beauty there is an
eye somewhere to see it. For every truth there is an ear somewhere to
hear it. For every love there is a heart somewhere to receive it.
~Ivan Panin
The Sisters
by ©
Mariska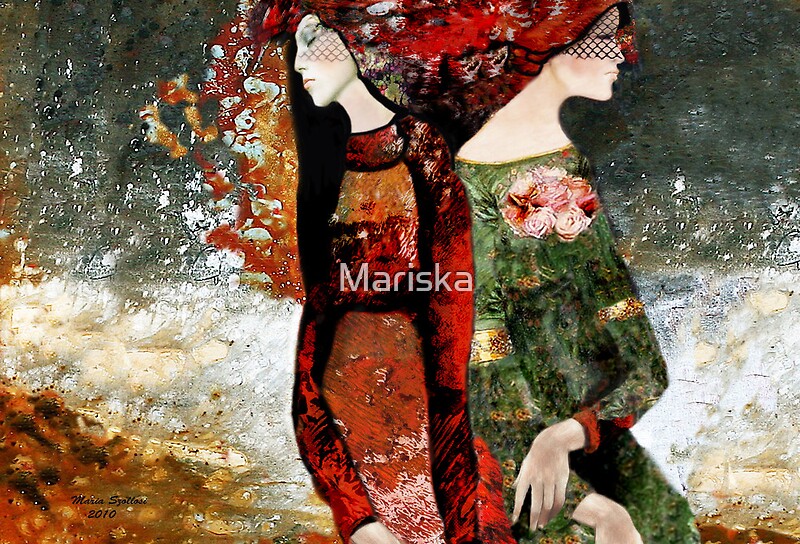 This wonderful poem, was written by the very talented
Anna-Marie Docherty Anaisnais in response to this image.
SISTERS by Anaisnais
Genetically imaged of self
Back to back
we are there for each other,
day and night,
in life and spirit
You teach me all things;
oscillate between
positive and negative,
right and wrong,
in and out,
up and down…
We may fight, disagree;
but deep down
it's because we care
on such deep level
Like it's 'me',
that wants be there
Guess what is most important,
are the moments that we share
We are sisters,
we are family,
and with love
are always there!
Say Goodbye / Part of The Sisters Series
by ©
Mariska
Dedicated to the memory of Terez Som my lovely daughter….
….So now it's time to say goodbye,
and thanks for all you have done.
You will, for always, be in our hearts.
We love you, Draga Terezkem!….
Some New Tomorrow
by ©
Mariska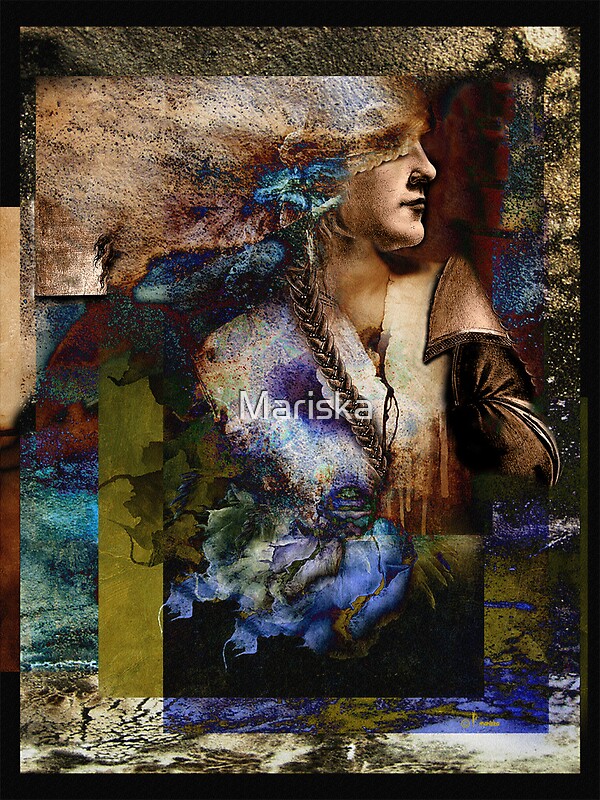 This wonderful poem, was written by the very talented
Anna-Marie Docherty Anaisnais in response to this image. I think it is an incredible and powerful piece of writing.
SOME NEW TOMORROW / by Anaisnais
In death we departed,
you knew your time had come.
Your body rose to meet last breath,
then sunk again, to hold
forever's peace within your chest.
Such frozen coldness set your bones,
grey/blue lips, syanosis undertones;
and what for me to do next,
but search your soul,
which lies not in your breast?
Confused, perplexed,
I know you do not sleep;
but watch the world go by.
Not in the casket buried 6 foot deep,
yet in my heart and mind.
A trace of sadness,
not understanding yet;
and nothing to lose.
So mournful these tears I cry,
unseen under the mist of time.
Saying Goodbye the next life's waiting,
I see the road back in different light.
Wavering unsafe over the horizon,
I conjure dream like wraiths;
sinister and heavy against the spirits.
Where memories leap
you will not die,
for patiently you'll wait;
and until then I know you'll stand
like sentinal at gate.
I know you keep a watch o'er us,
protect from harm
all those you loved.
Through long and lonely hours I sigh,
remembering long lost days gone by.
You keep me warm
and comfort me in ways
Only you could ever know how
Until we meet again some day
some bright new tomorrow.
Some New Tomorrow / 03
Without Wings
by ©
Mariska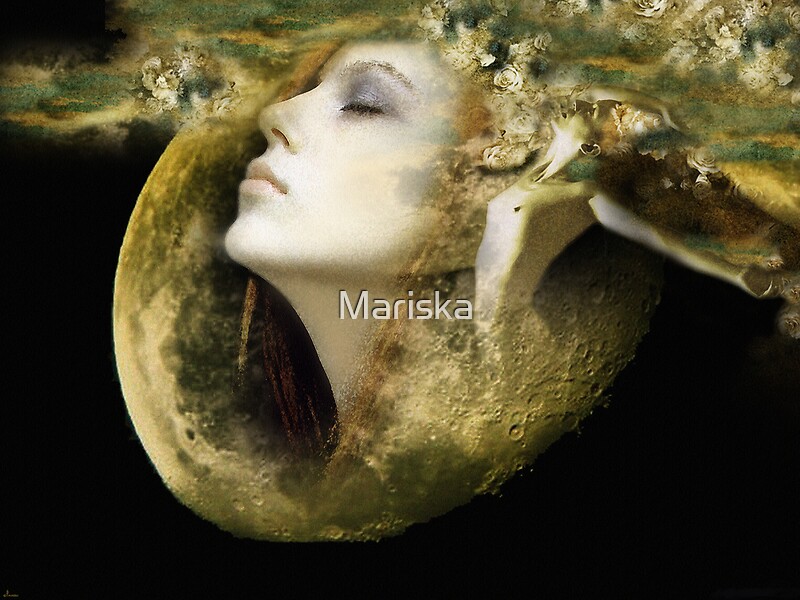 Gemini
by ©
Mariska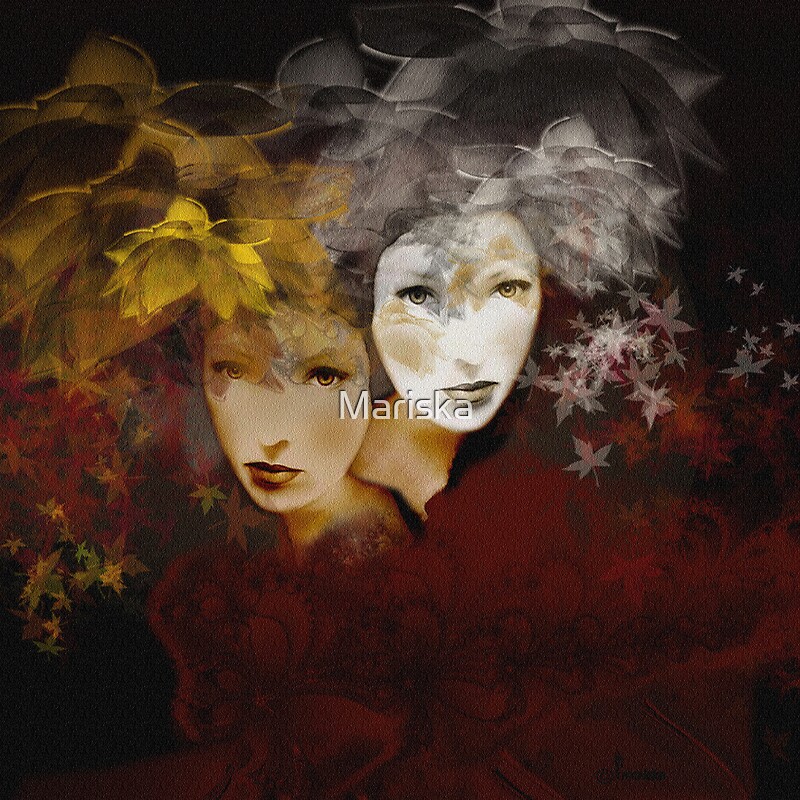 My Angel / Series 03
by ©
Mariska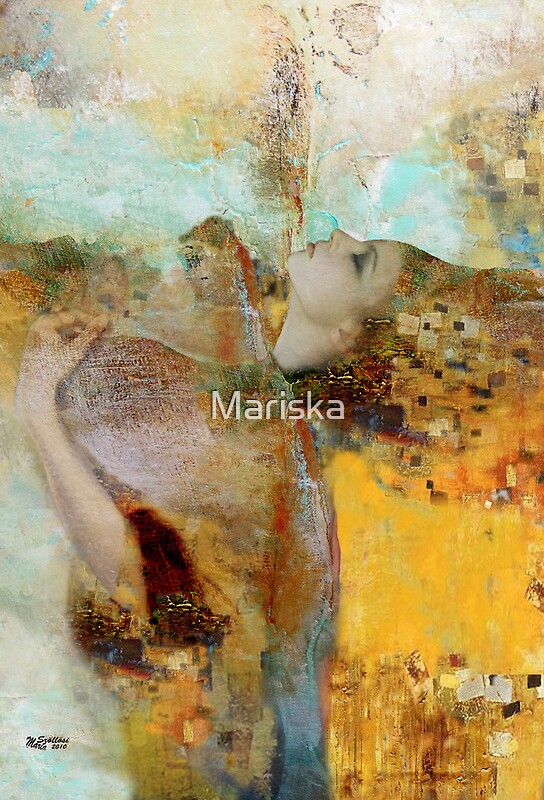 Maria Szollosi's "My Angel / Series 03", is an elegant and visually beautiful tribute to her daughter who died in her teens. For the face, Maria used her own oil painting of her daughter. The remainder was digitally painted in an oil painting style.
Farewell
© by
Mariska