My theme for this week are the different worlds we live in – not the ones everyone can see, but the inner worlds. This was inspired by Kristin's fabulous image. I have to admit I felt attracted to this image in part because of it's title. It's something that a character says in one of my favourite books – Jack in The Dark Tower by Stephen King – and it was always one of those lines that stuck with me.
There are other worlds than these by © Kristin Reynolds
The next poem I chose because it's so in contrast with the acceptance of Kristin's poem – someone still trying to find 'their' world.
My voice by © SFlora
Sometimes i feel like im wedded to passivity
I have shed many skins
To be reborn
From myself
From within
But this ingrained
Trained behaviour
Seems embedded in my brain
I dont camplain
Or wont complain
But should
Not be a slave to the system
To uncontracted duties that demean
Till my dreams become
To distant to recall
And remain unseen
For fear of the fall
Of unimagined consequenses
Where is the choice in this
When the option is
Automatically erased
And the thought censored
And why does my strength vanish
When i need it most
When the suit is boss
My voice is a ghost
And i am lost
In the tension
Between where i am
And where i want to be
Who i am
And who i could be
The longer i stay
The more i know
That i dont belong
In places where ticking of clocks
Are in sync with hearts beats
The next image with it's vintage feel reminded me of 'lost worlds', the times that have gone and it's nice to remember them too.
My First Pearls by © jacqleen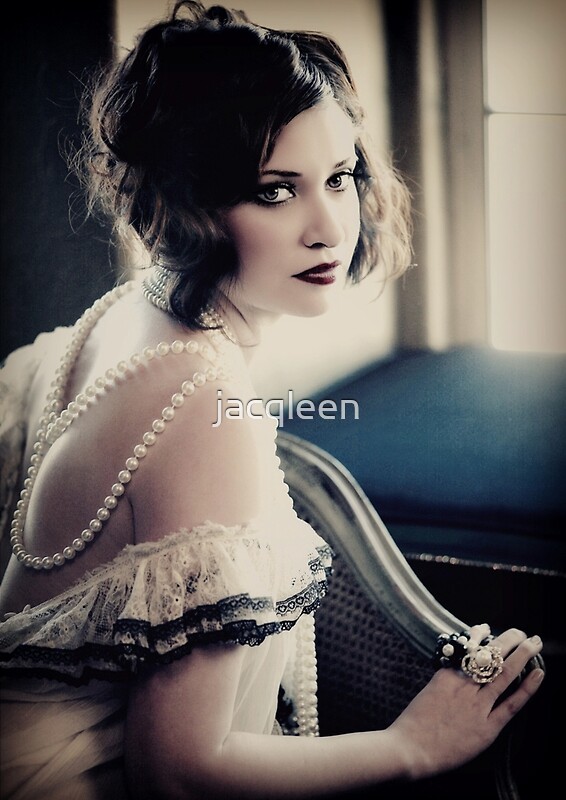 I couldn't resist this poem by Kristin. There's something so timeless about it and I am still thinking about what it all means.
Of a Wingless Bird by © Kristin Reynolds
I do not remember you;
I am like a thousand feathers
each flying in the other direction.
Nothing is relative here.
Here, relativity grows cherubs
like rain keeps on bringing
heaven new pails of tears.
Everyday
is thousands of days
all in the span of one breath—
the same time it takes
to erect a new galaxy
in the belly
of a miracle man.
I walk to the garden
a dirty orchid—
hands covering my face;
I run from the willow,
a grove:
when sun sets its eye
upon the earth,
all it sees
is love.
There is a radio tower
of fluted glass
riding the top of my
TO DO LIST;
it is filled
with two thousand wings
trying to make sense
of the moon—
while each wingless bird
holds their tongues in place
with rich golden apples;
while Polaris makes a nest
in the watchtower
made of hummingbird down.
Sometimes I see
all of this happening,
and whistle a tune in the dark—
until the bodiless feathers
are still,
and the apples
rise up
to the top.
This image caught my eye because the colours and composition are arresting. Another world… one gone mad and possibly bad.
And here's the perfect match in Rhonda's poetry…
Don't You Say I Told You So by © restlessd
I think back on those past times.
I know I did commit those crimes.
They were so very long ago.
I've served my time, please let them go.
Yet you still hold them in front of me.
No day goes by where you see just me.
In your eyes I am not true.
I'll never be good enough for you.
It is as if I am still jailed.
My heart & soul have been impaled.
My wounds did heal but left a scar,
A constant reminder is what you are.
Can we ever just start over?
Can I stop looking over my shoulder?
Will we ever let the past be gone?
Won't you let me forget my wrongs?
You smile that smile I know says NO.
In your eyes the scorn does show.
In your heart you won't let go.
Don't you say I told you so.
I have to leave now, I must go.
Don't you say I told you so.
The next image is about the people that make our world and help us 'hold it together'. I've loved this image since it first appeared in my image stream.
Here's a different kind of world, a world where wishes might come true and I haven't quite decided if this would be a good world to be in or not. See what you think….
My Wish For You by © Tracy Faught
I wish for you to feel my presence when I'm not there, like a blanket that wraps you up in a sweet heat.
I wish you dreams of joy that I have renderd by once whispering into your ear,long ago.
I wish for the forgetfulness of your pain and a rememberance of me when something makes you smile. I wish for your mouth to water when the thought of a kiss can bring back your passion, and the recovery of the taste of me on your lips.
I wish for your dreams to be kind and that the lover in them is me, even when your with another, I wish for you to not forget the feel of all that is my body…I wish for you not to compare the sensation aloud, but to relish it's memory, silently, deeply, sinfully, exquisitley…all to yourself so that I'm with with you unkown to whomever your loving.
I wish omnipotence over all your carnal knowledge. I wish to be all your sins when I'm not around.
I wish to be held in your hand, and touched in memory. I wish to be the salt you lick away from the efforts of love, the concentration of thought and the daily grind of life.
I wish to be the sweat that rolls off your lip, caught by your tongue.
I wish to be the button always pushed that can make your heart race and the sensation that makes your body yearn, I want to be the pleasurable pain you feel when your begging for release.
I wish to be the memory that haunts you, causing you to wonder why…why did all that pass away?
I wish to not be forgotten, so I send these wish's out as a dark prayer every night, from the depths of my bed, cold and deep. I wish for you to hear my voice from so far away. I won't be any more forgotten than I already am, and if my wishes are granted, than I never could be.
I just couldn't resist this image. I love the depth of colour and the subject.
Nikki's poem shows the kind of hurt and pain we go through in those worlds that no one sees…
Doldrums Drams and Drudgery by © Nikki Ella Whitlock
Enough enough doldrums drams, and drudgery, my limbs are heavy with non-compliance, And my mind is bursting it seems, with words and images, its composed calmness a folio of offloading, I overflow, I navigate winding worm holes throughout life's general mishmash, "it's a mixed bag" they say "and the spice of life" but there's no heavy petting, keep you head down, and cleverly disguise your misdemeanours in labels, groups and genres, an assemblage of misfits are we, enough enough, I'm so weary.
Enough enough sighs, shams and spitfires, this mortal needs peace, just a small a piece of land to twirl and sing with conviction, I'm occupied with the woods and rivers and I can no longer contain myself in, brick, metal and wire, society's heavy bulkhead of fortification, sucking the air. Terra firma calls me, claiming my lungs and loins with spores and pollen, planting seeds in my mind and womb, its blissful abandonment. Social order is in disarray, and I'm going under, I rage, I rampage, quietly, on the face of things, a smile for a while, it appears to be slipping, enough enough I'm fading.
Enough enough, vandals, voids and vampires, they suck drain and bewilder, leaving me broken, forlorn and empty, I'm fighting for who I am, but not sure what that is yet, the only sense I make, is a breeze on a tree, it whispers to me, "come home", I have a burning in the heart of me, that matter doesn't matters, it just expresses who resides inside, we are socially chastised and constrained and I yearn for pastures new, lush greens, burnt umbers and soft mellow, it travels to the eye so swift and calms the psyche, leaving self behind, a friend in kind and comfort, enough enough no more I'm already gone…
But back to life and what it can be and should be when you're starting out. Again, a vintage feel but with a totally different look and seemingly a different world altogether.
Finally, this poem by lovelyrita. Worlds colliding? Justice? Revenge? I am not sure. I just know I loved it when I read it, there's something compelling about it that makes you think and wonder…
Peek-A-Boo by © lovelyrita
I see you
you're off in the water,
in your boat fashioned of lies
I see you
bobbing
up and down
each wave a new surprise
I see you
headed for an iceberg,
a cold, hard
bitch
I see you
one hand on the life preserver,
the other on your itch
I see you
stranded in the sea
but you don't see me.
I hope you enjoyed these Sunday features and congratulate all the lovely artists without whom RB wouldn't be what it is.
:-)