We are honoured to have Agnes as our Pink Panther featured artist. Agnès is a truly lovely person. She is also an artist of national repute in France where she lives. She has exhibited widely, had her work published, been successful in art competitions and to top it all, is passionate about women's rights.
Agnès art is an explosion of colour and emotion. Some of her art is humorous and irreverent. Other works are intense and powerful. All are epitomised by her unique style and distinctive use of brushes, strokes and colour.
Agnès' story can be read below, and prepare to be as surprised as I was to discover that English is her second language. She writes better English than I do.
This is Agnès story:
I am a French painter but I rather consider myself as a woman who paints and so enjoys doing this. I started painting 15 years ago just because I had the opportunity to take watercolors lessons where I was spending my holidays. I appreciated this so much that I decided to continue when I went back home. So did I during seven years with two different teachers. The first taught me the basis – techniques colors. The second – a talented abstract painter – taught me just to look, to see the amazing of a splash or a line : he just opened my eyes and I am so grateful for that. He thought I had an instinct for composition and colors.
After three years with him, he said he didn't want to see me anymore, that he had nothing else to teach me… We are friends now and I always admire his work !
So I went my way, experimenting other mediums such as inks, regular and fluid acrylics and anything I could paint with even completely unexpected tools.
When I start painting, I rarely have an idea of what is going to happen: I think I just use the impressions some atmospheres gave me and emotions I have just kept in my heart… So my works exactly represent me and I am so happy when they are able to touch the viewer.
Pushed by my family and friends I began to exhibit my works in my town in Amiens and its surroundings but also in the Parisian region. I was surprised to get a 7th place on more than 300 works for a challenge in Paris and awarded several prizes in magazines. Positive comments on artistic forums also encouraged me to build a website. I am always so thankful to all the artits friends or visitors who have the kindness to sign my guestbook !
I registered on Redbubble in April 2010 and received such a warm welcome here ! I met so many friends and got such sensitive and pertinent comments !
I am very grateful Anna and Sybille made me the "featured Artist of January" of the PPM ! It's so encouraging !
I have worked a lot on women, trying to convey emotions, feelings, suffering… Even through my humouristics works I try to denounce discrimination or stereotypes women have to deal with… Maybe it's the reason why I also have been chosen as an "honor guest" for a future exhibition organized by "Femmes Solidaires" in March. I am very honored and glad to speak my own voice through my works in this show.
I hope my papers, canvas, colors and brushes I sometimes "tyrannize" will keep on obeying me ! Maybe I look severe but they do know how much I love them.
I think this work'I don't want to be a flower pot'depicts the lack of consideration 'some women have to endure.
I don't want to be a flower pot! by ©
agnès trachet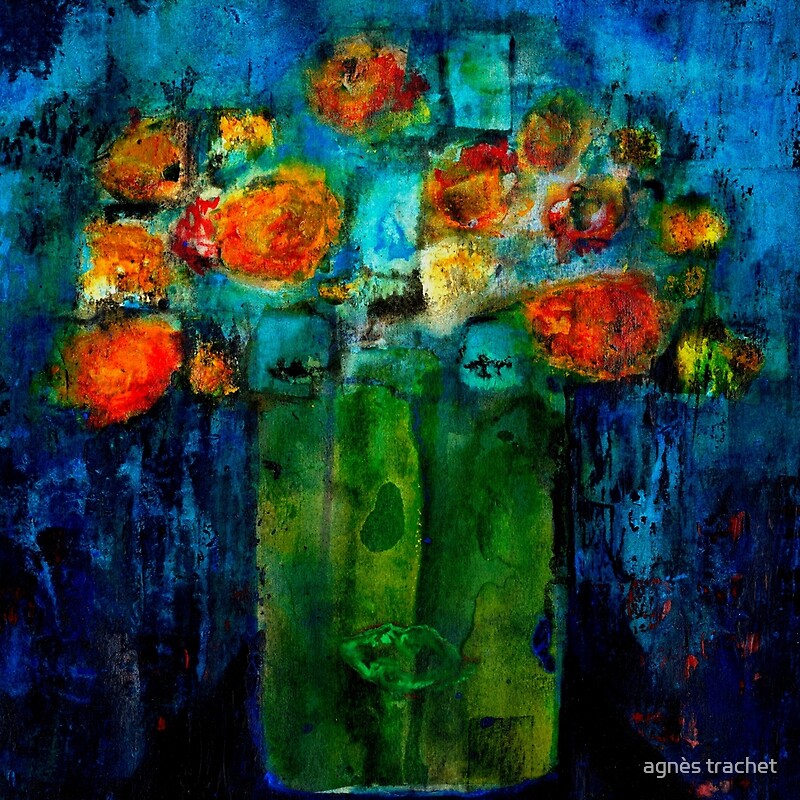 My first choice (Anna Shaw) is "At The Museum". I chose this because I felt I could relate to the emotions I see here – and because I feel as if I am growing nearer and nearer to becoming a museum piece myself. LOL
at the museum by © agnès trachet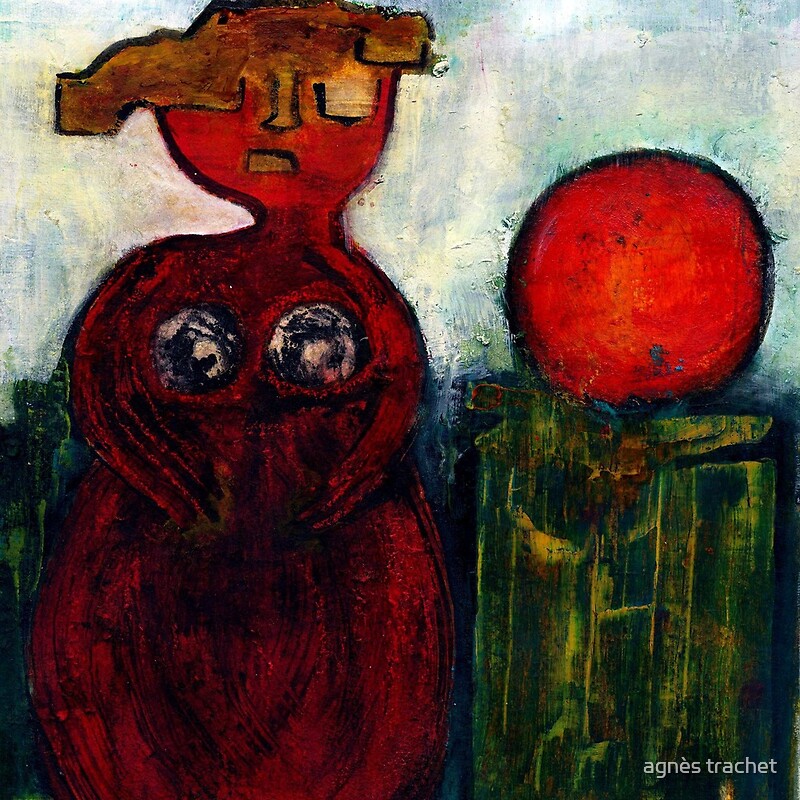 "Ballerina is one of my all time favourites and is a comment on the weight focussed culture of our society. It is full of humour, poignancy and pathos. It is fabulous.
ballerina by © agnès trachet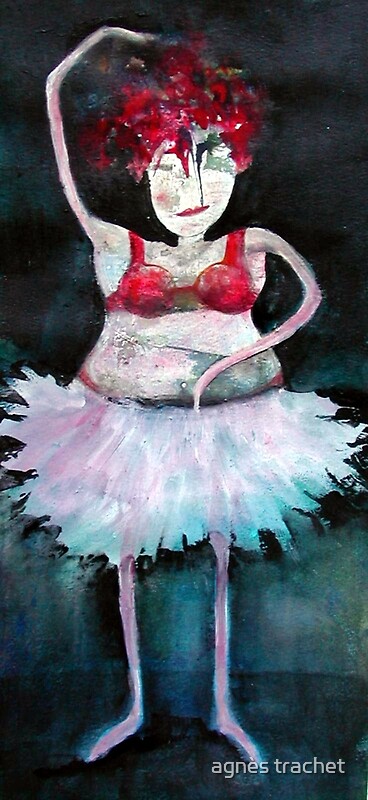 "The Boss" is another highly charged and emotional work, rich in colours and form, and is a comment on the imbalance of power at work. In Agnès own words "I tried to convey the effervescence of the work at the office and the height of the boss against the employee."
the boss by © agnès trachet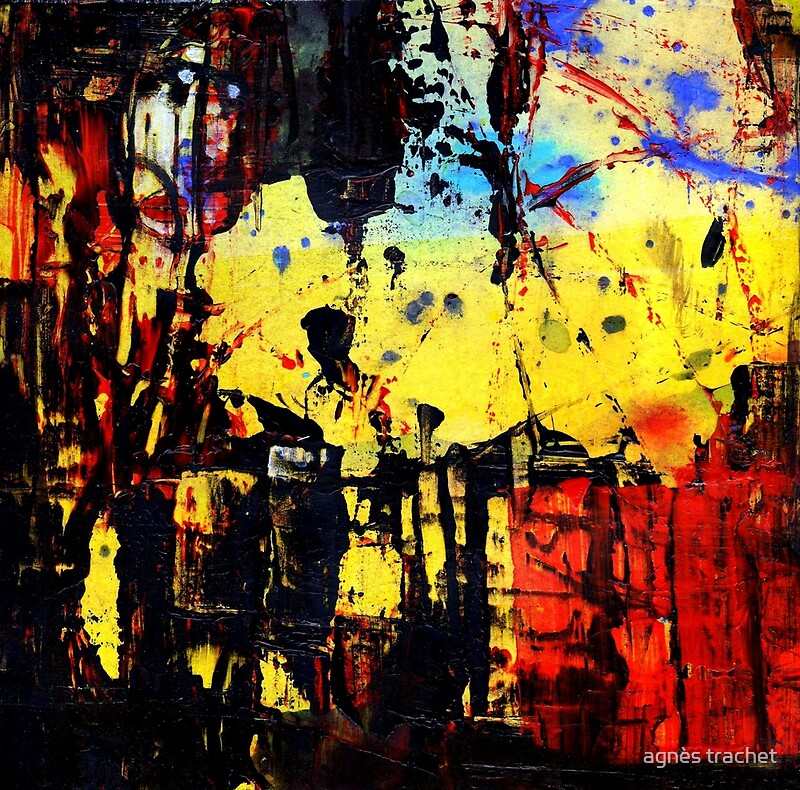 Agnès has a series of paintings, known as "The Wink Series". They have all to be seen, both for their wicked sense of humour, but also for the exquisite sense of person that she conveys in each one. They make me want to laugh and cry at the same time.
smoker by © agnès trachet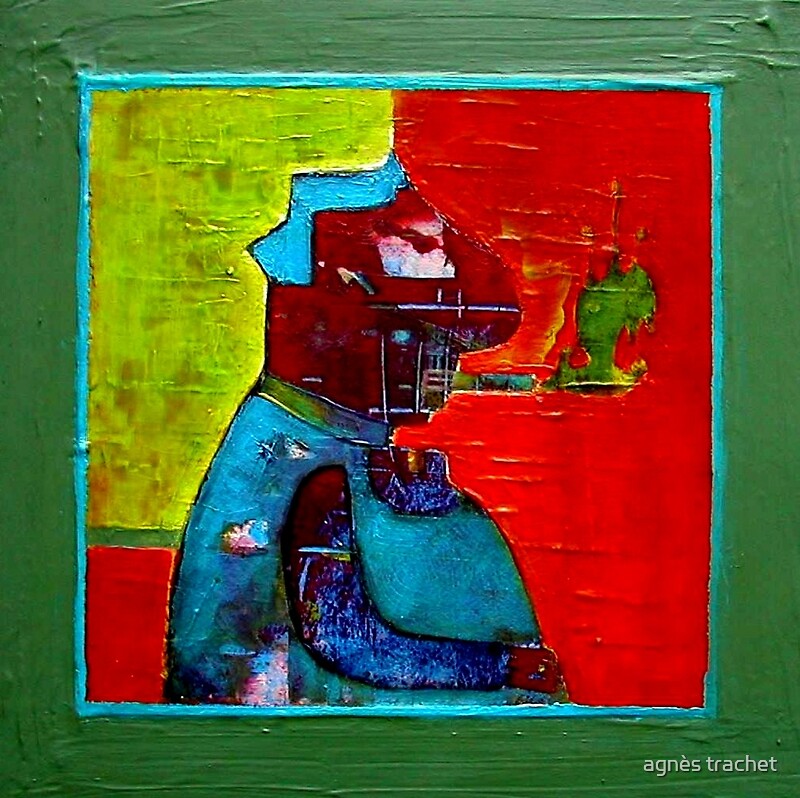 "Sorry – I was just taking a bath.." makes me laugh out loud at the sheer fun. But notice how she has again managed to convey this sense of a real person inside the humour.
sorry!...I was just taking a bath... by © agnès trachet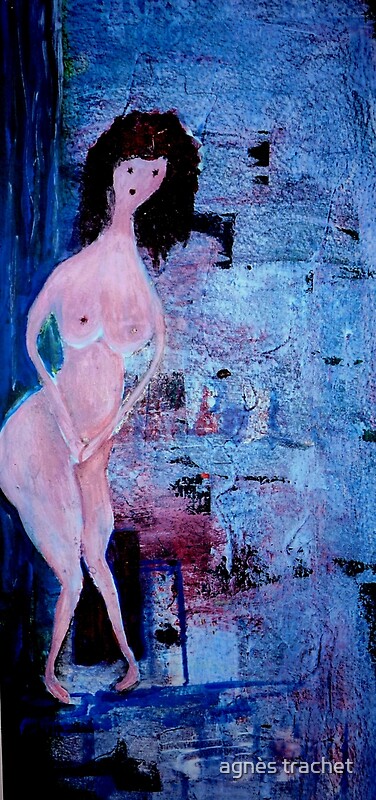 "Flower Woman" is again, another humorous artwork which I simply love.
flower woman! by © agnès trachet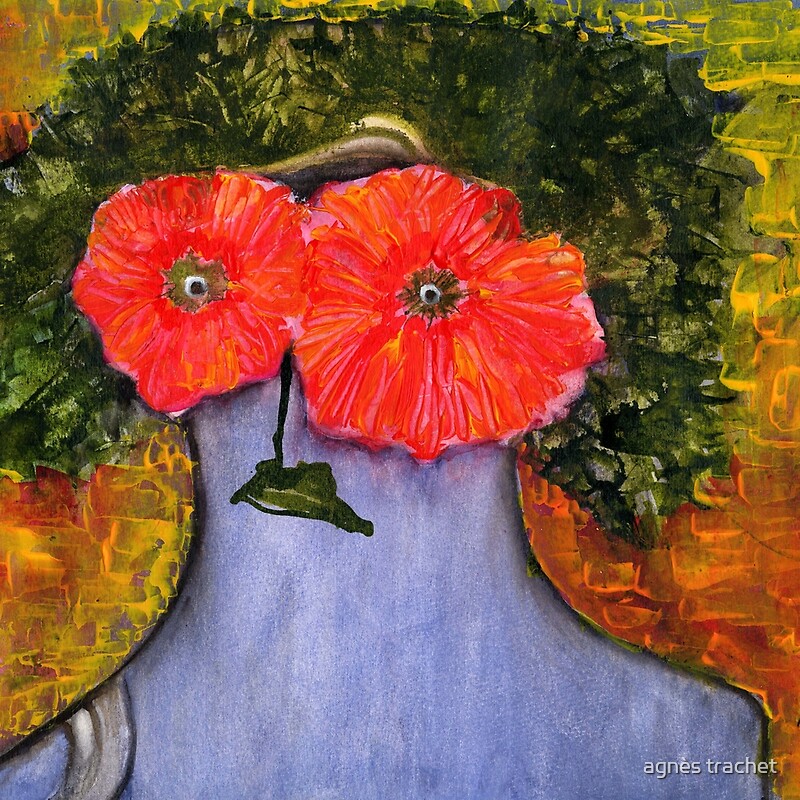 "Offering" – simply explosive and wonderful.
offering by © agnès trachet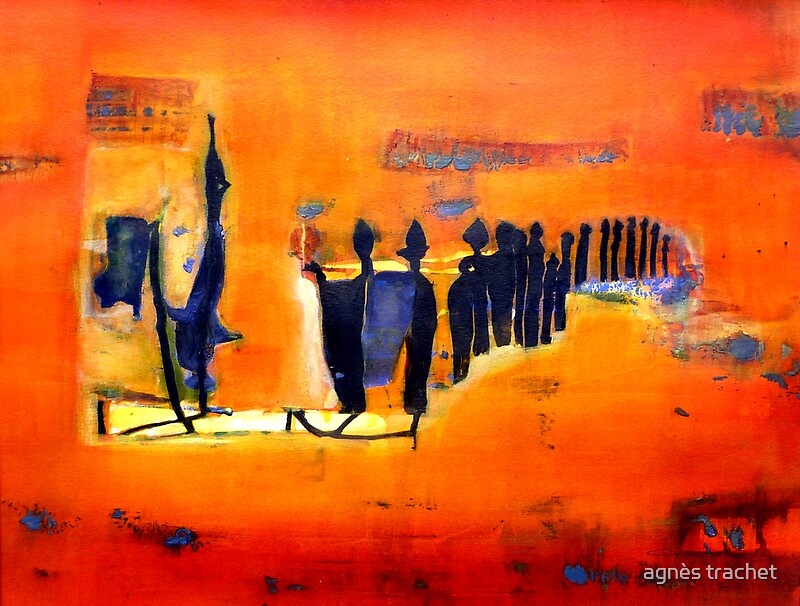 The following six are Sybille's choices. I am delighted that she has chosen a mix of Agnèe' portraits and landscapes as all together they give an indication of the wide range of Agnès' work. She has created a whole society of characters in these wonderfully poignant portraits. By contrast, her landscapes are deep, rich and mysterious, always hinting at much more than the scene itself.
I love the depth of the colours and the feeling almost of arrogance and majesty about this one.
Joséphine by © agnès trachet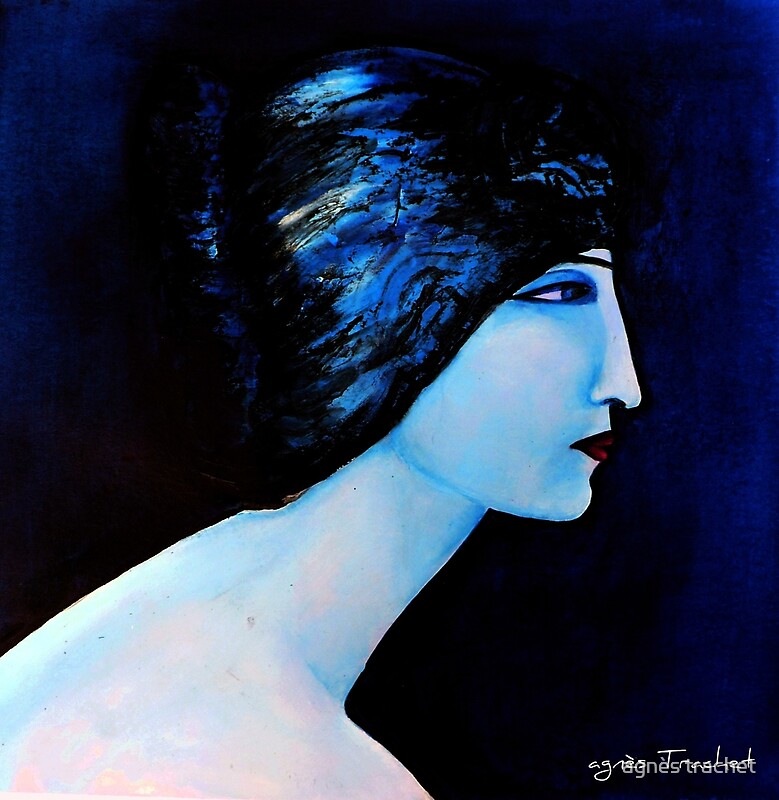 This one caught my eye because of the striking colours and the simplicity of the curves and lines, together the colours and lines make for one arresting image.
Blanche by © agnès trachet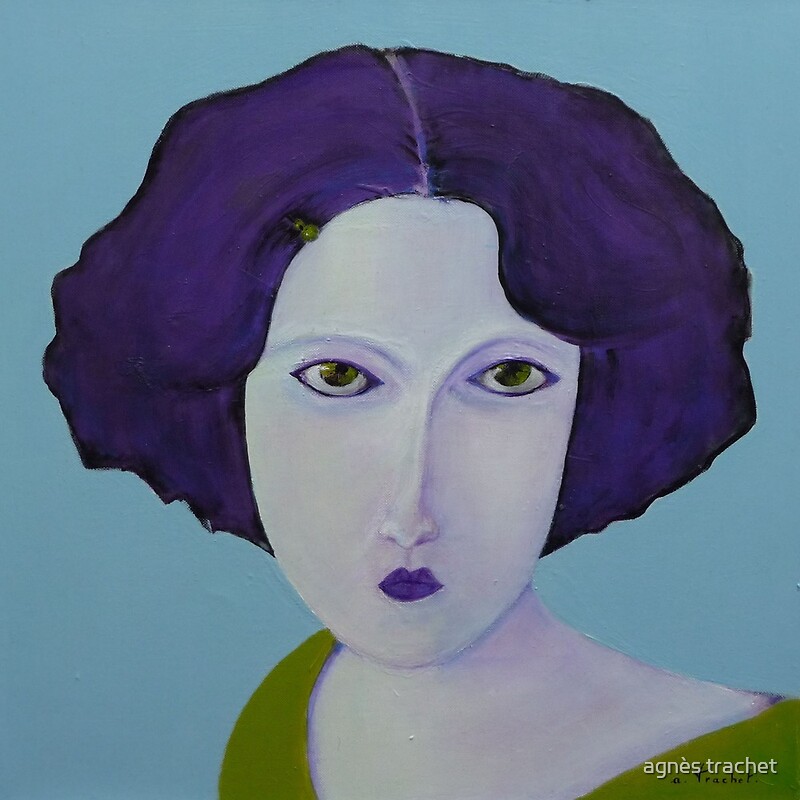 There's something so 'of the moment' about this painting. Someone caught in a moment of deep emotion, which makes this a very touching and beautiful portrait for me.
Louise by © agnès trachet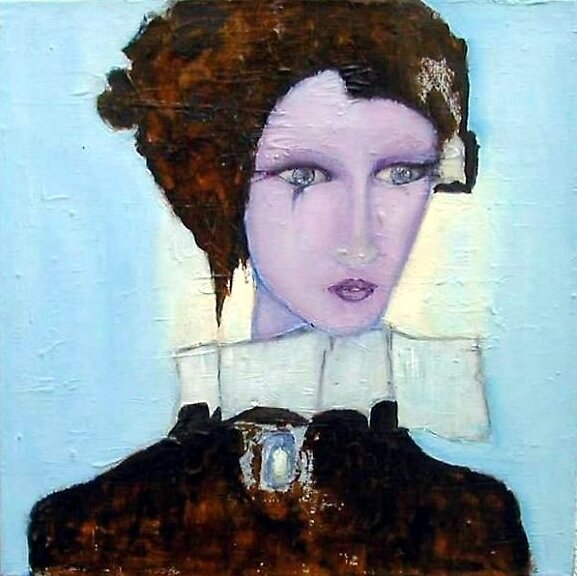 I just love, love, love the colours in this one and the way the textures and colours complement one another. Fabulous.
dream of sea by © agnès trachet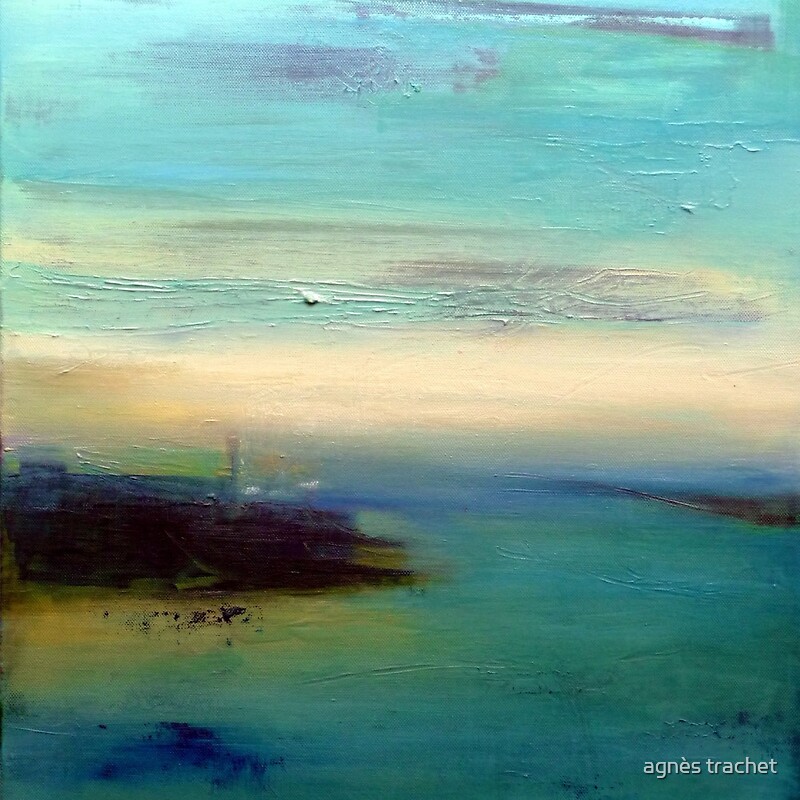 Again, the combination of colour and textures is just fabulous and the title says it all. This really is between the sky and sea.
between sky and sea by © agnès trachet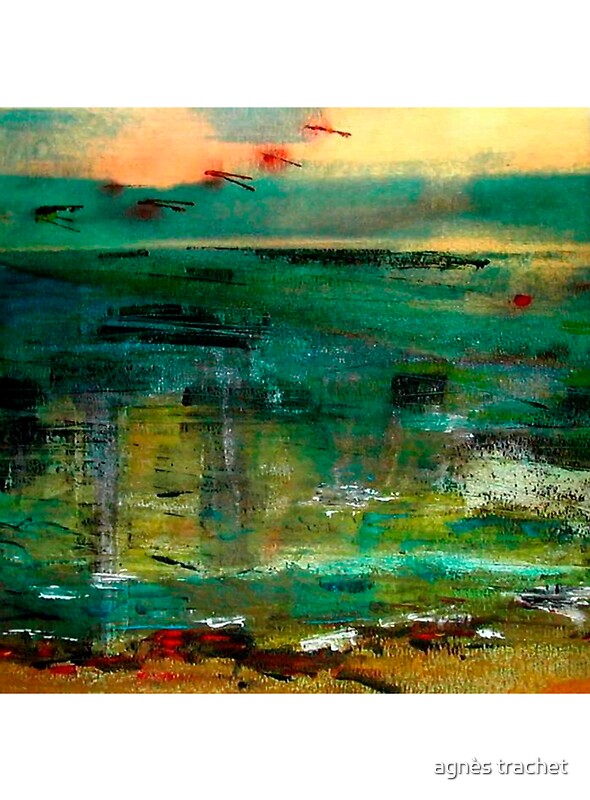 Another of these deceptively simple images which none-the-less carry so much emotion and feeling within the deep colours and the softness of the texture.
three lights by © agnès trachet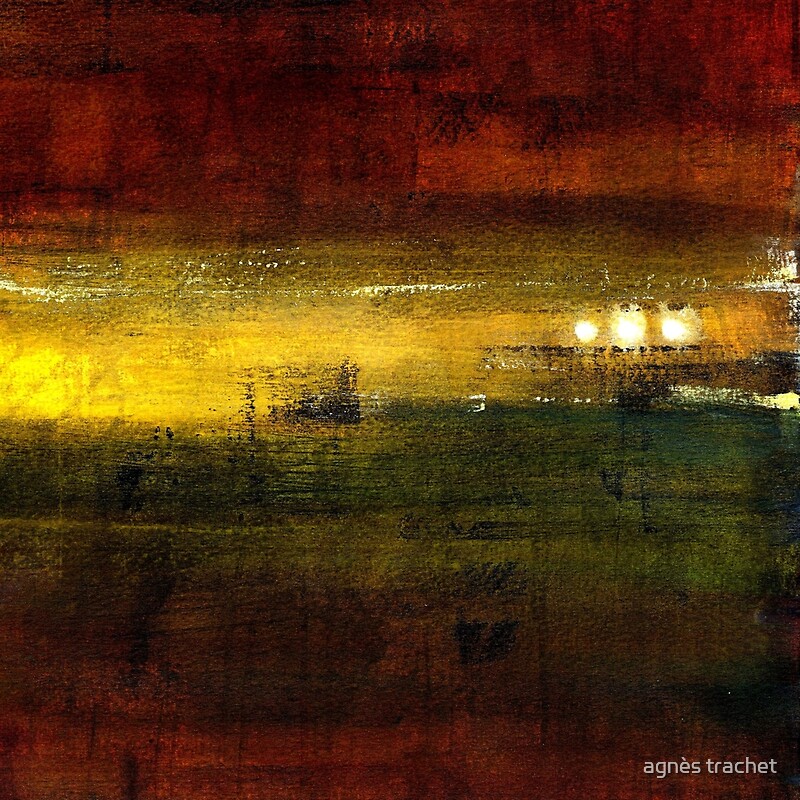 There's an amazing variety to Agnès art - from amazing portraits to landscapes to still lifes and abstracts - each one is intricate with a great sense of colour and texture. The more I look at her art the more it entices me to look again. Fabulous and a well deserving featured artist.
Check out the forum post on Redbubble to see other members favourite images, here.