Here in England spring hasn't quite arrived yet. True, the days are longer and there is the odd sunny day, but mostly it is grey and dark, or at least so it feels to me. I am one of those people suffering from the lack of light in the winter and quite happily would I spend my days hidden in some cave until spring arrives once more.
Hence the theme for the features this week is leaving the dark behind and welcoming the light with open arms. However, to get to the light we are starting in the dark. Without the shadow the light would be nothing….
Starting off with our current
Featured Artist
–
if you haven't checked her feature yet, please do – we begin with the eternal sleep; this so reminds me of Snow White and her poisoned sleep after eating the apple. There is beauty in the dark and no one shows it as well as
Strawberries
.
Silence speaks louder than words by © strawberries
This prose touched me deeply. Sometimes we are our own worst enemy, we trust that there will be a hero to rescue us, when all along this knight in shining armour hides somewhere else entirely.
Hero by © bjeliMis
Fear never leaves you. It just lies under your skin like inspiration, waiting for the opportune moment to slip into your eyes and show the mirror what you always are and always will be. A child. scared and wondering what's going to happen and who's going to do it. It always comes back, and when it does there is no more man there is only fear and the cover that holds it. You. You cannot hope to have people understand why fear looks the way it does in your eyes because it certainly looks different in another's. That's why the only person that can really save you is your own self. There is never going to be a knight in white armor. You must be the Knight, the sword, and the armor. And you must understand that you need to get broken and dirty and ugly to save the thing you instinctively find the most important. Yourself. Fear isn't the enemy it's the motive and you must be your own effector and savior.
We hide who we are, we keep silent about how we feel and we linger in the shadows….
she glued her lips together by © Isabela Lamuño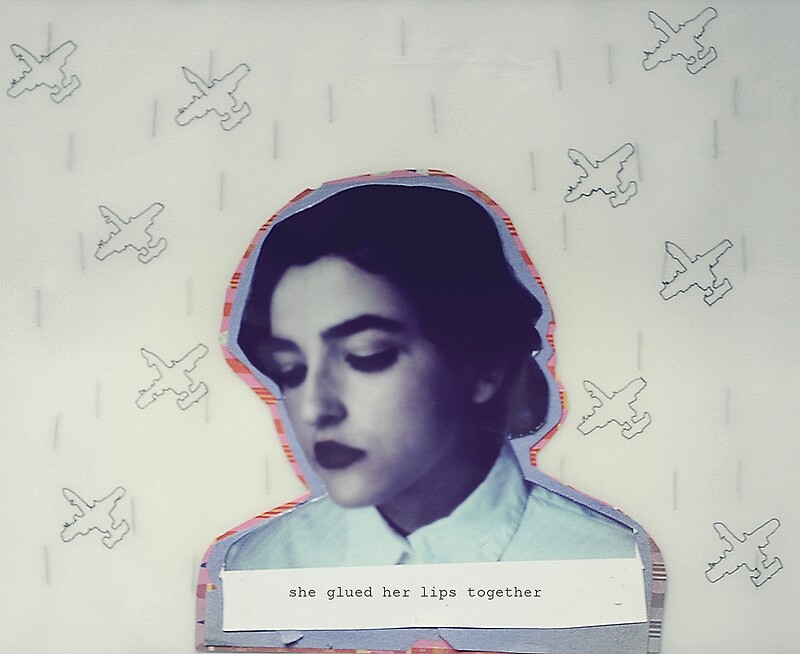 Worlds secreted away deep in the recesses of our mind shining and flowing when we dream.
Nocturnes By Xochiquetzal by © MoonlightLover
Painting nocturnes in the pale moonlight
On a balmy doggone night
Within me sits a winged child, white
like the brightness of snow
Holding a brush in a crossbow.
The liquid darkness sunsets before me
A guiding power of forces I cannot see
A storm sweeps across the canvas with the stroke of a brush
From jagged clouds, comes arrows of haste and lust.
Come quickly as the incuba of thought is like a dying comet,
Travelling so recklessly in my universal closet
Falling in love with you feels like dying unfulfilled
The mighty whirl of a orb so minuscule.
O just look at those unimaginable shapes!
Confined and cornered in a world it
cannot escape,
Over each other with a thousand motions
An intricate web of sound, tone and emotion.
The tempestous dawn came all too effortlessly
Amidst us our lurking vampires burn so majestically,
A prism of sunlight reveals an awful truth
A masterpiece of chaos, a picture of a misguided youth.
The memories, the hurts and the pain we experience weigh down our hearts and make it difficult to move on, but move on we must, because the world never stops and carries us on into the future, and how can we decide what this future will be if we don't take part in shaping it?
Heavy Heart To Carry by © Heather King
What can I say? Where there's life there's hope….
A Heart Rejected by © Rhenastarr
Shadows lonely
Drift over her
Solemn form
Rain pounding the
World outside her window
Adds it's chill
To a soul lost
And alone
Thunder rolls
Across her dazed
Reverie
Dark and ominous
It echoes
A heart weakened
By an oppressive
Drape of sorrow
Beats a slow moving
Dirge
A tempo of despair
The light that once
Illuminated her path
To love
Has dimmed,
It's glow now an
Eerie presence
Against deceit's
Winning hand
Felled and crippled
By the heavy weight
Of her now ever present
Doubt and recriminations
A figure of pathos
Huddles against the wall
Of heartbreak's rigid
Command
Eyes seek but do not find
Sympathy
Arms reach but do not find
Shelter
A voice cries out for
Mercy
Ears remain deaf to her
Plea
She feels the tug of
Darkness
Surrounding
Withering once flourishing
Seeds of love
In a ruined garden of
Dreams
In the deep valley of
Her wounded soul
Remains a fertile soil
Glowing softly
A glimmer of hope
To plant in the spring
Of her renewal
Tears of hope
Will water and germinate
The fragile seeds
Warmth will return to
A spirit disillusioned by
Love's cruel game
There will be a new dawn
On a journey to recover
What lies beneath her
Wounded core
There within her
Quietly beating heart
And her still believing spirit
She will once again
Seek and find
Love
How can you appreciate the light if you haven't seen darkness; how can you be found if you haven't been lost?
Perdu dans Paris by © Lissie Rustage
And so the journey into the light begins with a single step and the yearning to find what will make us whole.
Blind by the vision by © Sukhwinder Flora
Following the road ahead
Lies a hunter and a cave.
Picking up the broken thread
I try my best to find my way.
That you called
Through
All the clouds of smoke and grey
Was all I needed
To make me make me human, once again
Strolling through the trees
I sense im not walking on my own
The mist conceals a meaning
Revealing the truth when i am gone
I thought i saw
You
With your open arms
It was only a shade
Of a thought that had drifted, once again
Lost in the fever
Of wanting to find you
My soul friend
Blind by the vision
Of knowing i will see you
Once again
Clad in clouds and mystery and the hope for light we soldier on.
cirrus dress by © Cynthia Lund Torroll
We search for signs of those who came before inside us and carve out our own path.
(Grand)ma by © Katie Leonatti
I gaze into the photo of those
Chocolate moon eyes that no
Longer reflect gauzy sunlight rays.
I never saw those moon eyes shine,
But I look for her in prism
Rainbows and neon geometric
Patterns everywhere.
I wonder if her handwriting drips
From my finger and saturates pages.
My arched P's were extracted from
Someone's fluorescent gene pool.
Did she create like I do, did
She envision paint jump from walls
To brush bristles
When the pen smacked the paper?
I gather photos of her the way
A mind hoards memories,
But these are scenes I was never
Perched in, I'll never be part of.
Her arms were delicate ivory,
Altruistic limbs that will never
Shelter me.
And
Maple hair is curled like mine -
I see these ringlets
Shine like the moon.
What I like to believe is
She scans Earth through
Tattered cotton clouds to
Observe me,
And when I skipped across
The stage at graduation or
Eased a car into a tight parking
Space for the first time,
She beamed and
She held her breath
For just one moment.
We dream our dreams and sometimes like caterpillars they become butterflies and go out in the world to make it a better more beautiful place.
Dreaming in red by © Catrin Welz-Stein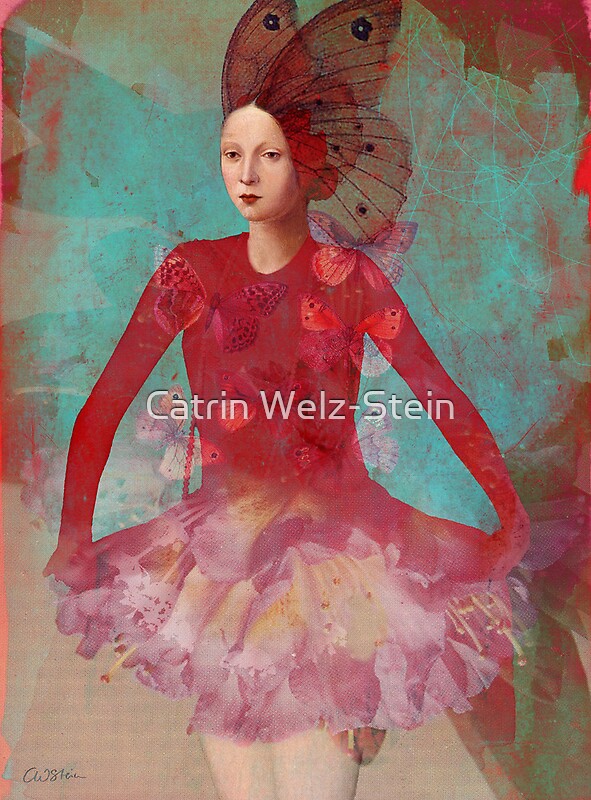 Finally, here is the hope that what we do and who we are matters.
The eternal quest by © su2anne
Is who we are
What defines us?
Do our actions
Speak for themselves?
Is our future
Determined by our past?
And what of Humanity?
Is the collective
Greater than the individual?
And
Who loses most
When all is lost?
The path that we
Follow is
Choice itself.
It's width
It's length
Irrelevant.
Go on
Get through
Be brave
Be true
Listen to your
Heart
Embrace your
Intellect and your
Existence will
Make the world a
Better place and
Collectively the Will of
Many can be
Profound.
Hopefully this brightened a dark and grey day and lead you all back to the light and creativity. Please tell the artists and writers featured here if you felt better for viewing or reading their work.