Today's features are centered around the theme of the perfect body. We take a look at our bodies and ourselves. We look at what we do to them, how we value them and how they are so often presented by the media. The images are a rich tapestry of colour, texture and form, celebrating our differences and our similarities. All are reaching out with love and compassion to our sisters.
Today's features were inspired by the wonderful image from Venus Oak, whose witty and poignant image draws us into the world of the media, where the quest for the perfect body has turned our young women into skeletal waifs, and yet has convinced so many of us that we need to be size zero and yet have big booby curves. Venus' image convinces me that I am OK as I am.
The Perfect Woman © VenusOak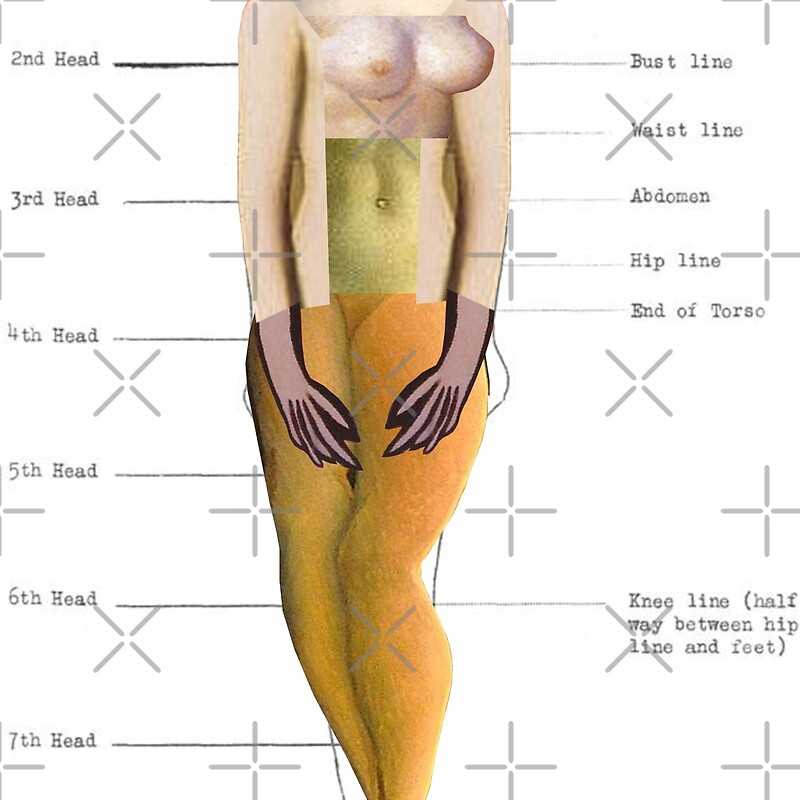 I love this image by Sybille along with the powerful message that accompanies it.
The young woman, looking innocently seductive, is in fact trying to combat the very stereotypes that the image portrays. She has been brought up to believe in the fairy story role models, as we all were, but is now seeking to find her inner strength. Sybille has also made a link with the thorny issue of mother/daughter relationships. We see the mother in the photo frame at the bottom left of the image, and her expression says it all.
Sybille explains…
"Everyone must know by now how much I love fairy tales and how much I hate the way women are depicted in them – unlikely role models for our daughters. The Princess and the Pea seems to be one of the worst of them – I ask you, a girl chosen to be the future queen because she looks pretty after having been out in a storm and because a pea hidden under her mattresses makes her bruise… Hmmm.
Well, this is her daughter, struck by the same 'pea affliction' she decided she was having none of it, so now she's attempting to desensitise herself by surrounding herself with peas, hoping to cure the disease…
Sybille Sterk
However this is also an image about mothers and daughters and the need to rebel against your mother and all she stands for – Princess of the Pea's portrait can be seen standing in the corner looking with surprise and disapproval at her daughter's shenanigans."
Girl With Pea ©
Sybille Sterk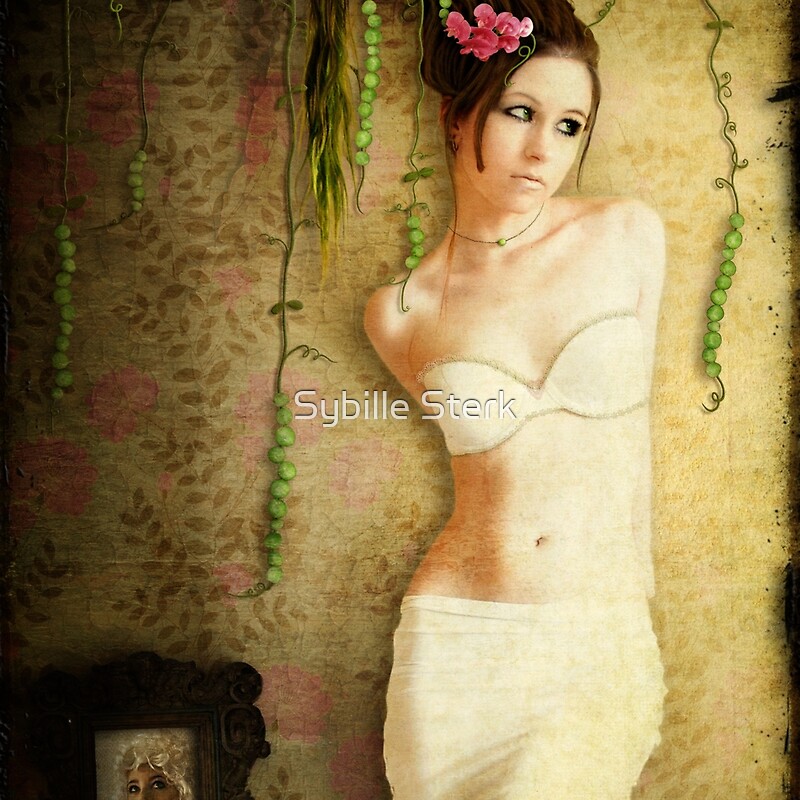 This poignant image speaks volumes about the way in which which we and the media treat our celebrities. We place them on pedestals, knowing almost nothing about who they really are. We revere them for their 'beauty' and then subsequently let them fall when another comes along. The poignant expression on the woman's face reveals the truth of what she is feeling.
"Every day I see idols raised, idols with feet of clay….they stand before us, true identities masked…
We put them there, we heap praise, gold, glory, raise them high, then turn our backs when a new idol arises…"vanished in the sun upon the sands, worshipped a space, then left to be dispraised"…. it's a hollow life…"
Janis Zroback
Accolade… ©
Janis Zroback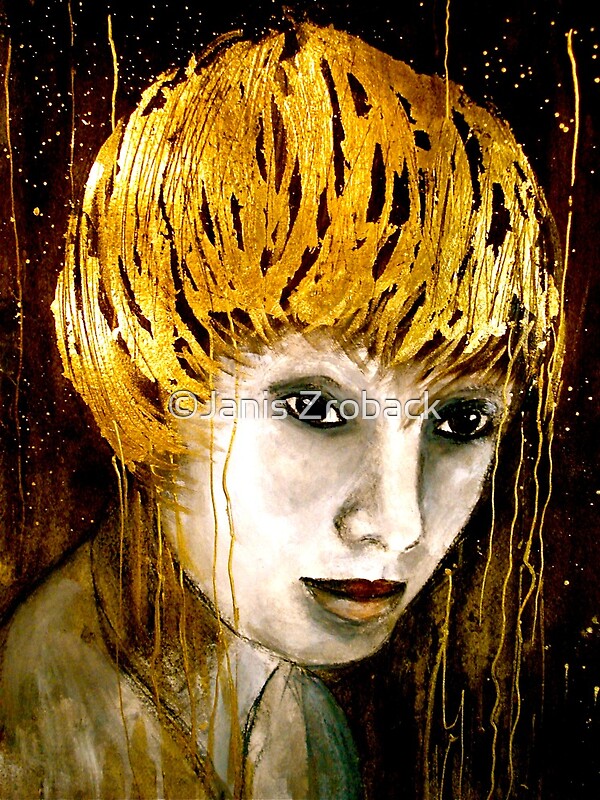 Madelines lovely image and accompanying poem speaks to us of the need to be loved for the totality who we are, rather than for what we look like. It adds to the theme that is running throughout the features. We do not want to be idols, princesses, of media models, just simply ourselves.
"if you love me, love me whole
not light or shadow areas …
If you love me, love me black
and white. And gray and green and blond,
and mixed …
Love me day,
love me night …
And early in the open window!
If I want, I do not cut:
Love me all … Or do not love me"
Dulce María Loinaz
If you love me, love me whole…©
Madalena Lobao-Tello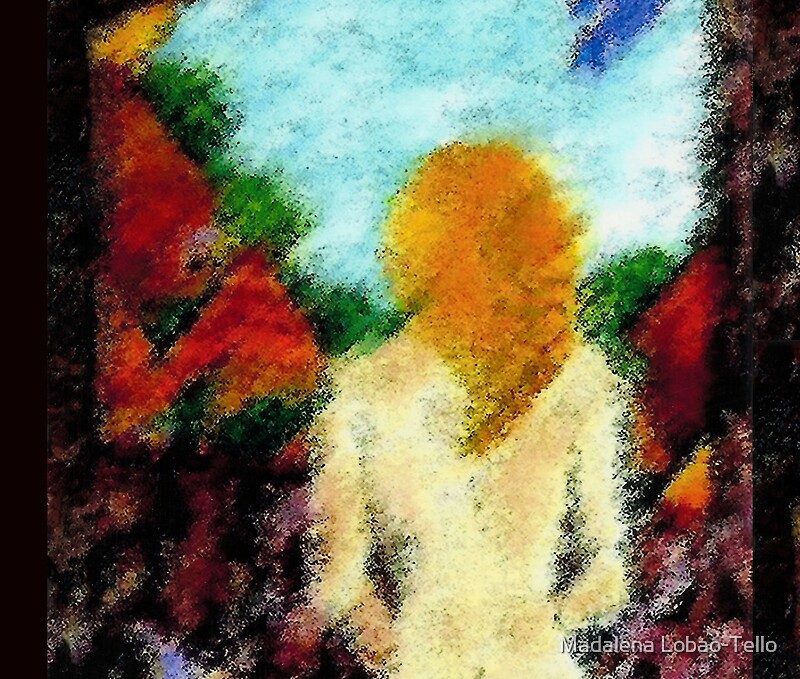 All of Thelma's work deals with the way in which women are perceived. Her work is challenging and thought-provoking. She speaks of our bodies being valued for their individual components. This, and the need for us to be valued in our entirety, shines through everything she does.
"In science so called monsters and freaks were identified, used for experiments, explained and controlled through forms of knowledge which normalized 'correct' or 'proper' bodies.
That natural science defined monsters in this way suggests the final critical link to the construction of the category of woman in traditional western knowledge systems operating through binary divisions of 'self from 'other'."
Thelma Van Rensberg
This delightful image from callmejulia, is a heartwarming celebration of what is on the inside, rather than the outside. Here Julia is claiming the right to enjoy and promote her artistic and creative self. There is a real sense of self enlightenment here.
"This represents my willingness to put myself, my artistic self, out there."
callmejulia
Ready to Start ©
callmejulia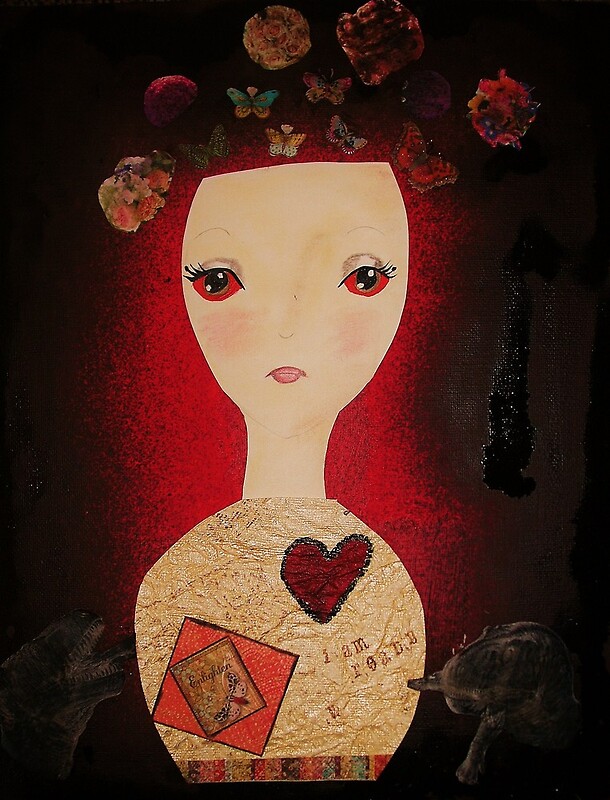 Tammera's beautiful image portrays so well the stylised life of a Geisha. In much of the literature, Geishas were romanticised, but the reality of their lives was very different. They were revered for their bodies and appearance, never for themselves. Every action was proscribed for them. They were little more than highly paid sex slaves. Tammera is so strong with her wish to bring important social and feminist issues to our attention. Thank you Tammera.
"For sexual enjoyment and romantic attachment, men did not go to their wives, but to courtesans. Walled-in pleasure quarters were built in the 16th century, and in 1617 the shogunate designated "pleasure quarters", outside of which prostitution would be illegal, and within which "yūjo" ("play women") would be classified and licensed".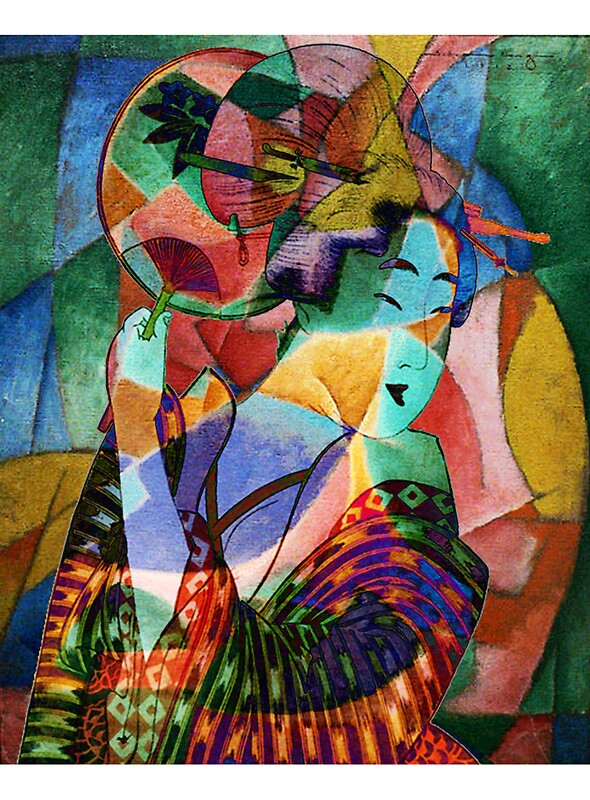 This haunting image by Edibl3leper makes me want to laugh and cry at the same time. You must read the whole commentary as it is a total delight. Wanting to stave off the ageing process and beautify herself, she gave herself a cucumber face mask, and this is the image she saw of herself when she looked in the mirror. I particularly loved the openness and honesty of her words, but also the strength of her final paragraph.
"That is a perfect analogy for my feminism, my personal female identity. Raised with feminine examples I adored while I simultaneously feared becoming some of those same things myself. As an adult, and as a young woman I found myself by embracing something I was unsure and uneasy about becoming, by making it a little prettier to look at. We all get by as we can, one day, one picture, one poem at a time."
edibl3leper
Beyond the Mask ©
Edibl3leper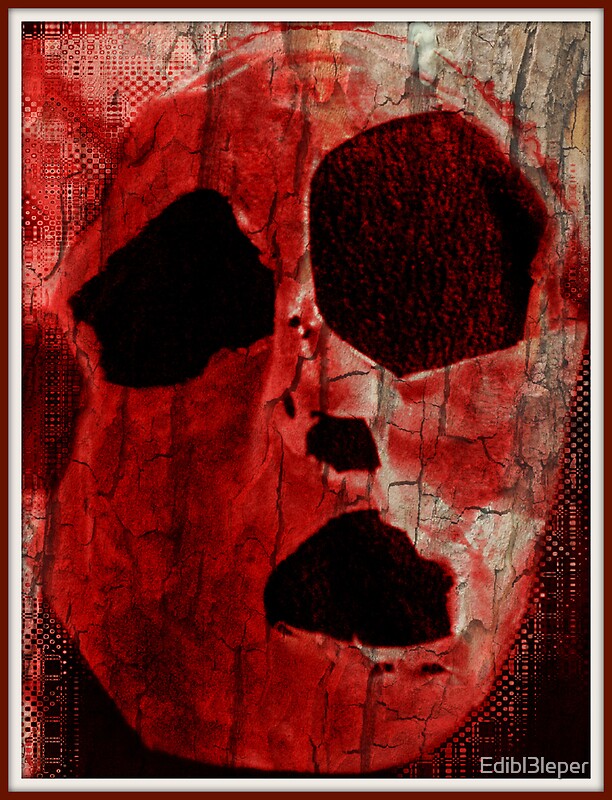 I love this image, with its bold colours and deliberate simplicty. It is a celebration of all we believe as feminists and women.
"This series deals with the conundrum of trying to simplify life in the Western world where the dominant discourse tells us more is more, not less is more.
This body of work is a homage to diversity, human rights, alternate lifestyles, gender equality, class equality, race equality, equal opportunity and ultimately – life."
Kristen Haddon
Education © Kristen Hadden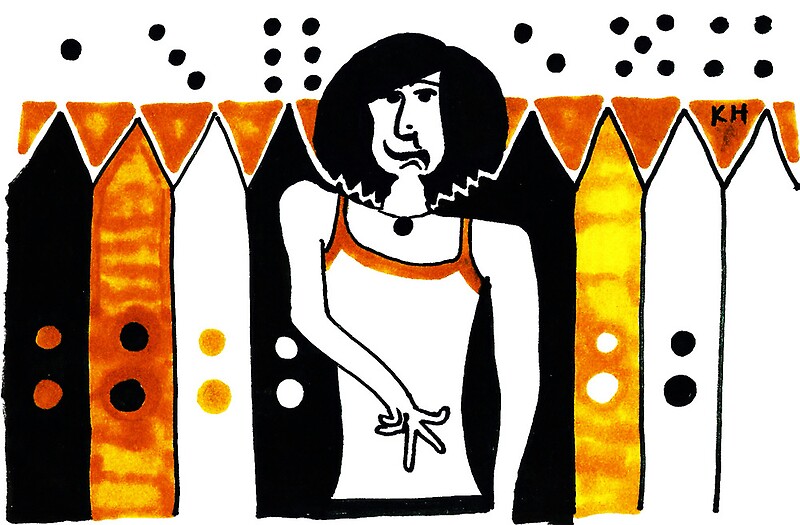 This is one of the most shocking and powerful images raging about physical abuse that I have seen. It shouts out that our bodies are our own and that abuse is not acceptable. It speaks of shame and guilt, but ultimately Heather's strength and courage shine through.
"This is what happens when you bottle up secrets and truths, keeping everything locked within. When one becomes brave enough to 'speak' sometimes to others your words appear as hieroglyphics. thus, removing the mouth. As a women, it's taught from early on to not speak our mind, thoughts, desires, not to rock the boat, not to call the evil doers on their crime. No more.
This photograph is very dear to my heart. i had to keep secrets in for such a long time. this photo was taken directly after physical abuse towards a woman. terrified to 'speak' the truth…i faced that fear….eventually."
extrinsic silence ©
Heather King
I love the exuberance that shines through all of Lis' art, and this one brought a huge smile to my face. We see the woman celebrating freedom, dancing with joy and rejoicing in being. It is a delight.
'Free at last ,she dances,
no more ties that bind.
no buttons being pushed.
A wild woman now filled with endless joy!
See her leap round and round,
chains are gone,
no thumbs to numb,
she,s free , happy herself she found!
by eoconnor
Free at Last – a woman's Bliss ©
eoconnor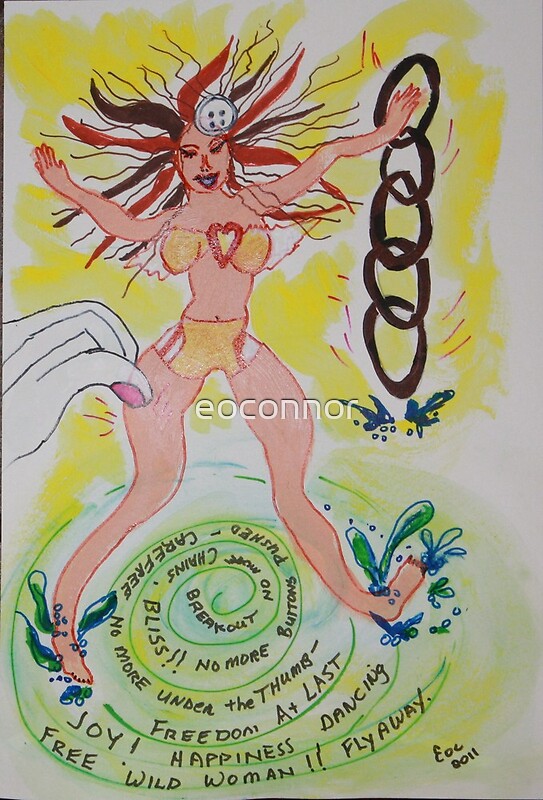 Finally, we celebrate woman as a survivor with this striking image by Rosy H. Rosy's words say all there is to say…..
For all those who struggle and continue to survive against all odds.
She's strong, she's also vulnerable. She's tough, she's also tender and been hurt.
She's 'Woman'
Rosy H
Survivor ©
Rosy H
Members supporting members Please take a few minutes to congratulate our artists – it does not take long and it means so much. xx
Anna, Sybille and Jenifer