The features this week were inspired by the wonderful image from Renate Dartois – "A Moment of Solitude" whose image gives us the message that, as women, we need moments of solitude and self-reflection to balance how much of ourselves we give away. The truth of this message is self-evident, but how often to we allow ourselves these precious moments of quietness, or think about the need to equalise the balance of our own emotional needs against the needs of others?
In all the images here, we consider how we project ourselves to the world, and to our inner selves, through our eyes and expressions. The eyes become a window to the soul.
This image shimmers with a force as strong as the woman depicted here. The deep and passionate colours tell us about the woman herself and maybe about the emotional cost of giving to others. Her eyes are closed, and one can feel the intensity of her inner self-reflection. This is a powerful and emotive work.
"As women we need moments of solitude and self reflection to balance out how much of ourselves we give away….."
Renate Dartois
A moment of solitude….. © Renate Dartois
The art of Madelena Lobao-Tello has reflects her rich cultural background and reveals to us women of strength and determination. Here, we see Flora – the Goddess of Seeds. She is forever young and beautiful. In her eyes, however, there is a haunting look of vulnerability and we feel we have been given a glimpse into her psyche. She is the protector of women, and yet she is herself young and vulnerable."Goddess protector of the flora and of the germination process of the seeds.My interpretation of the roman goddess Flora, divinity who was in charge of the flowers, the germination of seeds and with them the fields and agriculture. Not only that, the goddess of flowers and seeds was also considered the special protector of women and the goddess of love until it was replaced by Venus-Aphrodite.Flora, the goddess forever young, epitome of harmony and beautiful proportion, majestic and luxuriously has given its name to what is known as vegetable kingdom."
Madalena Lobao-Tello
Goddess of the Seeds – Flora © Madalena Lobao-Tello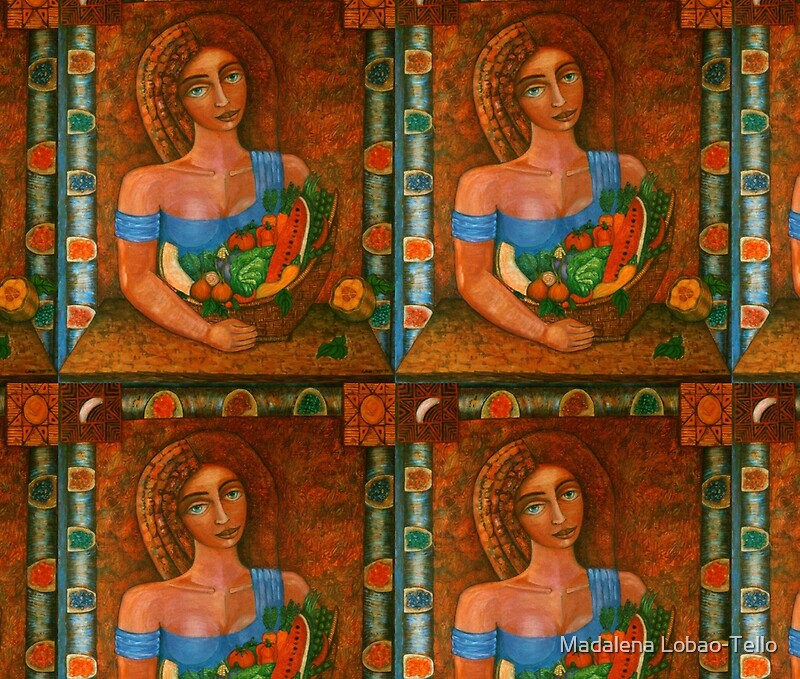 An empathy with humanity is a theme that runs throughout the art of Janis Zroback. Her women are multi-dimensional beings, complex and whole. In "Too Much, Too Little" we see the inner emotions of a woman who is suffering but who we know will find the strength to move forward. The inspired and careful use of colour and paint strokes add to the emotional intensity of the work. It is stunning.
"Don't ask me why a happy person like myself seems to get right into life's agonies when I paint portraits…I don't know the answer..
Maybe because agony is related to ecstasy and you can't have one without the other?
Maybe it's a basic empathy with human suffering that drives me to portray these emotions…
Whatever it is, it's at bottom a feeling that all art should say more than what's on the surface…should be akin to a poem more than an essay..
She has made the final decision…what's next? The future looks bleak but anything is better than this…"
Janis Zroback
Too Much.. Too Little.. Too Late © Janis Zroback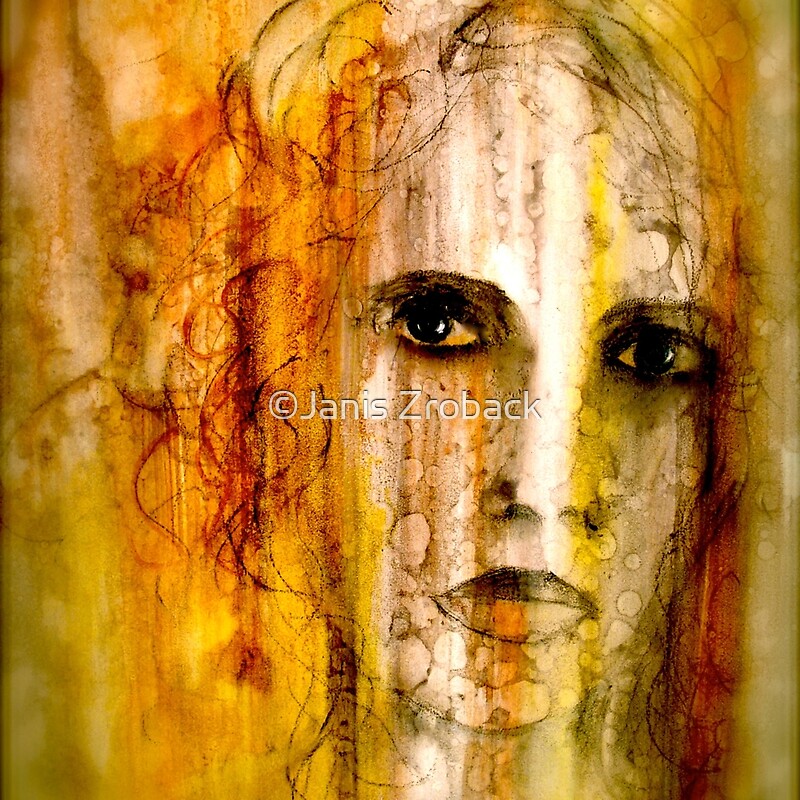 'Taming The Panther' is another strong image where the use of colour and line add to the overall power of the image. It deals with the concept of female power, but also the issues of dreams, intuition, creativity and self-awareness. We see real determination in the eyes of the subject and know that to cross her would be a mistake.
"In some cultures (South American, & Central American) the panther is a symbol of courage, valor and power. The panther animal totem is a very powerful and protective presence, individuals with panther totems are usually people who come into this world with a spiritual knowing – a deeper understanding of spiritual things. These people often are very intuitive, psychic, and many are artistically inclined. When the black panther totem appears in your life, it is also a symbol of releasing your passions, and starting a new phase of your life. A phase in which you are discovering your desires, and living your dreams."
Himitsuhana
Taming the Panther © Himitsuhana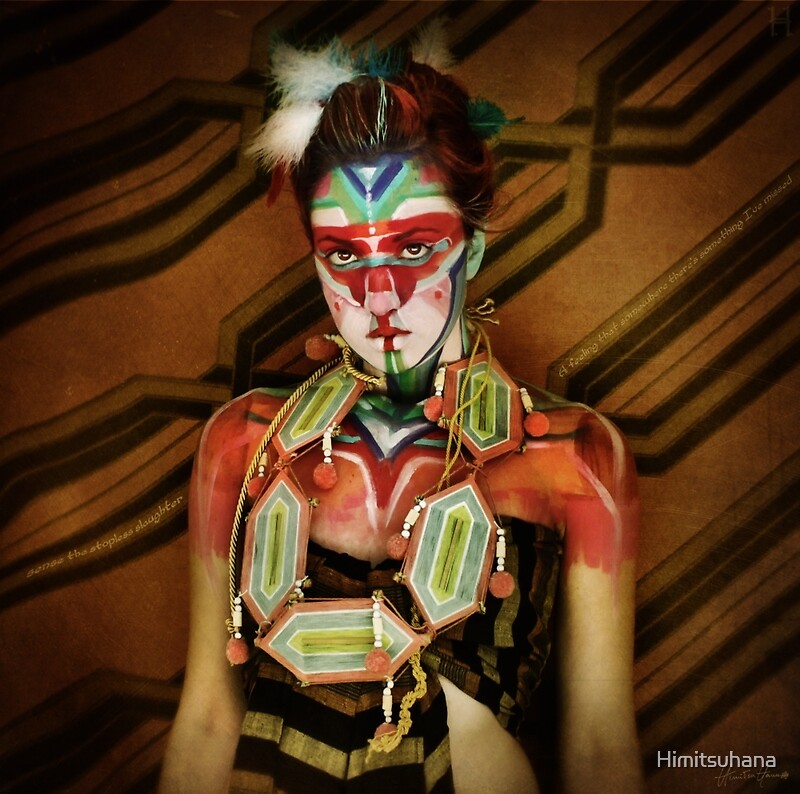 'She Tangled' by Rosy H is an intricate and complex ink drawing, with detail so fine that it needs to be viewed large. It is about introspection and extroversion, and the eyes here, reveal it all. It is a mesmerising and unforgettable image, and those eyes stay with the viewer long after. There is much symbolism within the image, and, perhaps most notable, are the tree roots and branches weaving themselves around the faces, inviting us to consider the present, past and future.
"Gaze inward and gaze outward – introspection and erm… 'extrospection' :) They get tangled so it seemed appropriate to name it thus."
Rosy H
SheTangled © Rosy H
I have been a follower of Sybille's work for a long time, and she seems to go from strength to strength. Her images are becoming more powerful each week. In this beautiful image we see the inner soul of the young woman through her different colour eyes. The dichotomy of inner and outer beauty is well depicted here in the duality of the face and its make-up, but like all the other images featured today, we have the impression of the inner strength of women.
This particular image is about the efforts we make and the pains we are prepared to take to be beautiful and to adhere to the beauty standards and trends of our time. From designer eyes (coloured contact lenses) to makeup to surgery to turning ourselves into animals or vampires (and so on) there are many ways to hide ourselves until we cannot tell where the mask ends and we end. The saddest thing of all is that we seem to forget that outer beauty is nothing without inner beauty. However, any inner beauty we possess is often overshadowed by the pursuit of outer beauty.
I am not saying that a little makeup is evil or that you shouldn't look after yourself and make the best of your assets, however, in recent years the concerns with our 'outer' shell seems to have taken over any concerns we have with our inner selves, the content as it were. From trying to be size 0 to wearing the latest fashion to cosmetic surgery we seem to have forgotten who we are and where we come from."
Sybille Sterk
Dissembling – Beauty Pageant © Sybille Sterk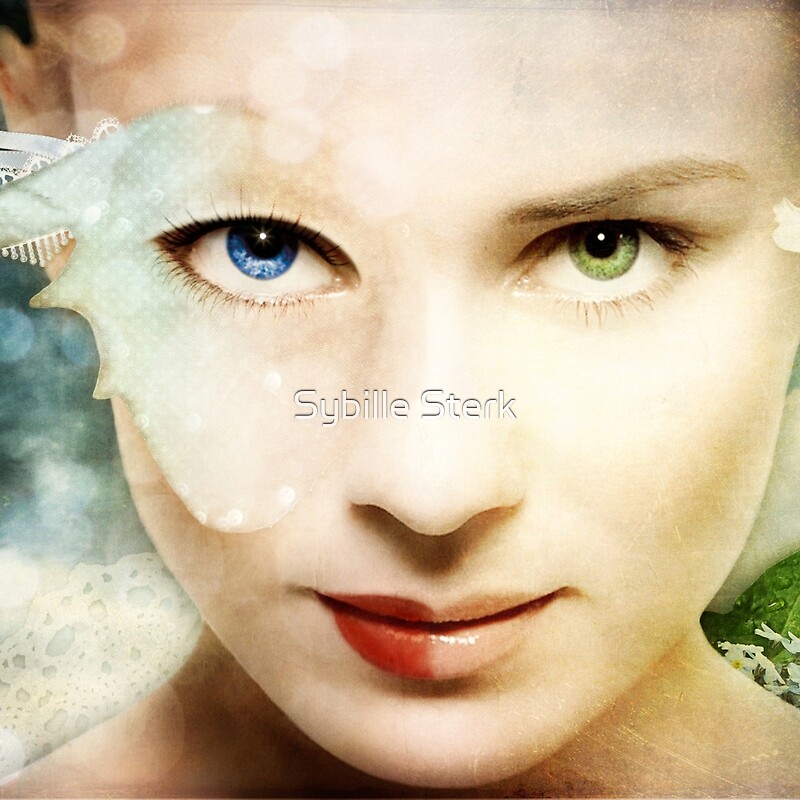 This soft and delicate image by Geraldine Maddrell is at first glance of a romantically beautiful woman. Soft, shimmering and delicate, it is however so much more than this. It depicts the emotional and psychological inner world of women, showing that we have choices about who to let in and who to keep out. It is about that moment of self-reflection and contemplation we need in order to fully balance our worlds.
"My inner world
rich and dark
not many may enter
this secret part
There is only one
with whom I trust
to walk gently
and be just
"
Geraldine Maddrell
Living On The Inside © Geraldine (Gezza) Maddrell
Dmcart's stunning image follows on so beautifully from the one above. It captures our imagination by is softness and vulnerability, but speaks to us of inner complexity, of multiple inner emotions and of the need for inner strength. It urges us to be ourselves, and by so being, to allow humanity to grow.
"In a single human being there are many other beings, all with their own values, motives, and devices. Some psychological technologies suggest we arrest these beings, count them, name them, force them into harness till they shuffle along like vanquished slaves. But to do this would halt the dance of wildish lights in a woman's eyes; it would halt her heat lightning and arrest all throwing of sparks. Rather than corrupt her natural beauty, our work is to build for all these beings a wildish countryside wherein the artists among them can make, the lovers love, the healers heal."
Clarissa Pinkola Estes
Oci Ciornie © dmcart
In this gorgeous image we see Demeter, the earth goddess, whose only daughter was abducted by Hades. She searches the world for her lost child, and, as MoonSpiral explains that when she gave up hope of finding her, the world was barren. Moonspiral has used the colours of the earth and oceans to depict her, but it is the look of total sorrow in her eyes that makes us stop and feel real empathy with her.
"When the mothers quit dreaming of a better world for their children we are all in big trouble. When Demeter gave up hope the world became barren. Mothers have a lot of power to dream the world into being."
MoonSpiral
Demeter's Dream © MoonSpiral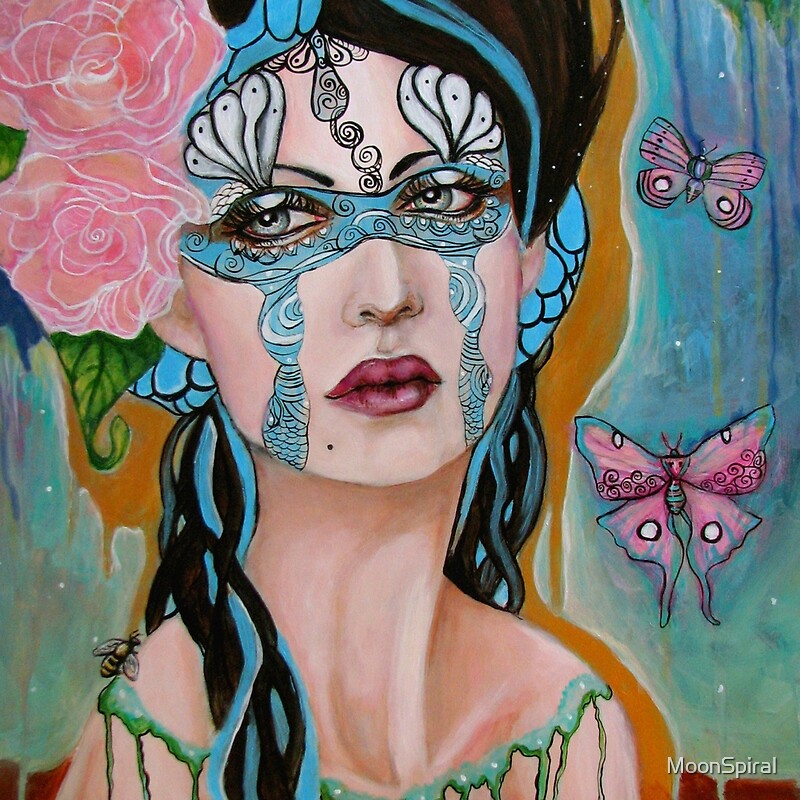 "Unheard Words Of Mine' by Christina Rodriguez portrays so skilfully, the anger and confusion that can arise when you cannot make yourself heard. The misery of this is, once again, portrayed through the eyes. We can see the sadness and the anger here. The eyes truly are the window to the soul.
"What do you do when …
You have so much to….
Say and no one will listen?
No one wants to listen…
Or are you just thinking…
No one wants to listen?
Maybe you enjoy…
Dreaming and keeping…
Your thoughts to yourself…
Maybe you know…
No one will ever really…
Appreciate your words…
But…you cannot help….
But still feel lonley and lost….
"
Christina Rodriguez, 'Unheard Words of Mine'
Unheard Words of Mine © Christina Rodriguez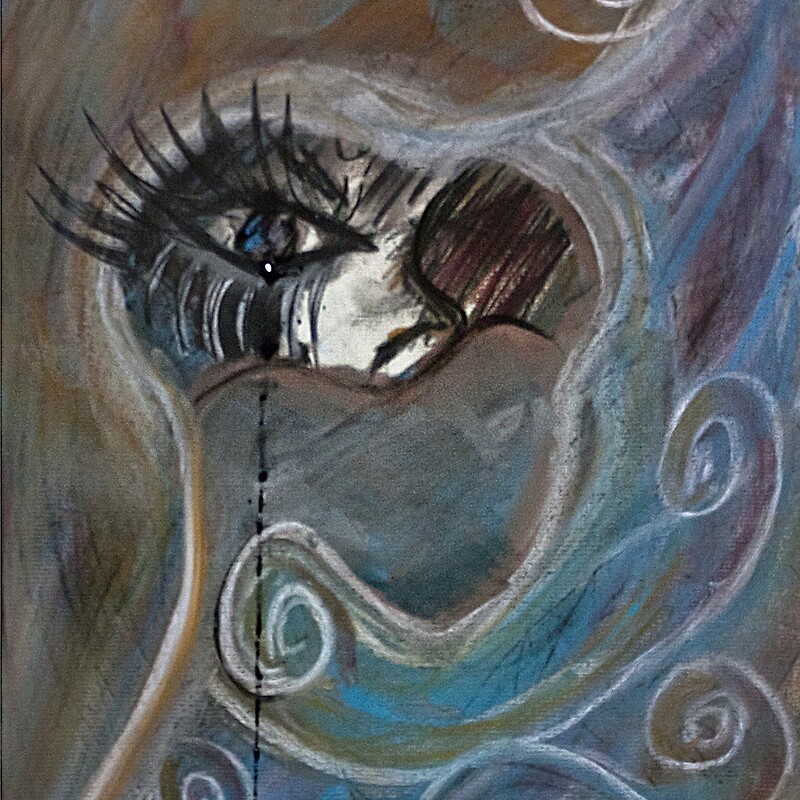 This lovely image by madworld really caught my eye, as I too have never had the gift of a daughter. The love that madworld feels for this young woman shines through the page. It is a wonderful portrait where we catch a glimpse of the subject, but also an insight into the inner self of the photographer.
"I love this girl, she is the daughter I never had, the daughter I can never have, my sons first love, my sons confidante, the one he seeks when he needs someone to tell him to pull his head in, to tell his stories too, to hear the truth from. And he does the same for her. I knew she was special the first time I saw her, a gawky 13 year old with little round granny specs in school uniform who walked in front of my car. And I looked at her and knew, I knew she would be part of my life before Caleb did. A month went past, I would watch her come out of the school gates and try and send her silent messages. And then it happened…could we give her a ride to Youth Theatre. And from that minute on, she was family. I love this girl for what she has given me, for what she has given my son and the friendship that still after all these years that ensues for each of them. I love this girl."
Madworld
And I love her © madworld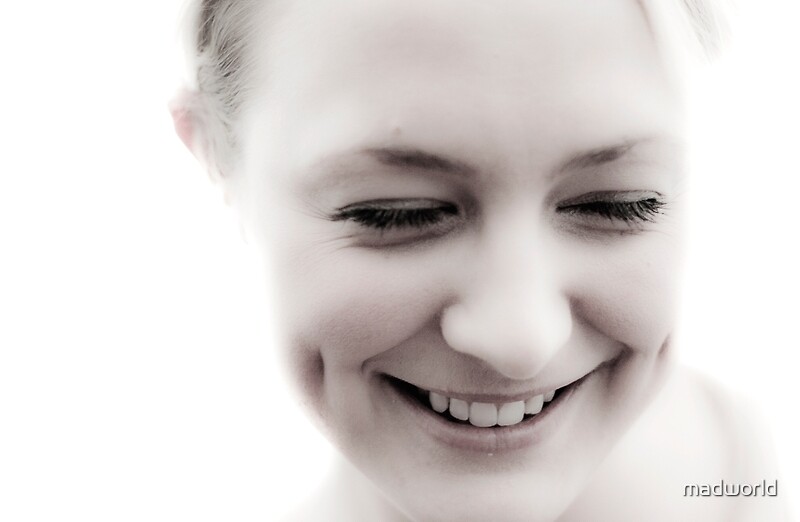 We started with an image of eyes closed, and finish with Madalena's image which powerfully suggests that the eyes are closed – or not there at all. She talks to us of memories, and how they can inhibit us. She talks of the need to free ourselves into becoming the creative and wonderful women we can be. She uses the eyes as a metaphor. This image will remain with me now and remind me of the need to move forwards.
"What should I do with all those memories which reveal my nights and astonish my days ? I Hang them!"
"Ceramic is to stop being what we were to start being what we are. The creative process is magical, holistic, cosmic…
Belongs to the ceramic series "The Kiss" – The kiss of Memories…"
Madalena Lobao-Tello
Hanged of the memories © Madalena Lobao-Tello